Dark Chocolate Peanut Butter Cups
Dark Chocolate Peanut Butter Cups
ChocZero
Eggs and bacon, coffee and cream, KetoKrate and snacks. All classic combinations! But there's no combo more classic or more delicious than peanut butter and chocolate! The people at ChocZero love chocolate, and it shows. They don't believe in just making chocolate. They believe in making chocolate so good, you're hiding your stash from your family! They do this by following in the footsteps of thousands of chocolatiers before them — using quality ingredients like Madagascar vanilla beans and premium chocolate liquor. The final product is a chocolate that tastes like a guilty pleasure (but isn't!)
Make It Yours
15% Off
Code:
OCTKETOKRATE15
Expiracy: March 11, 2021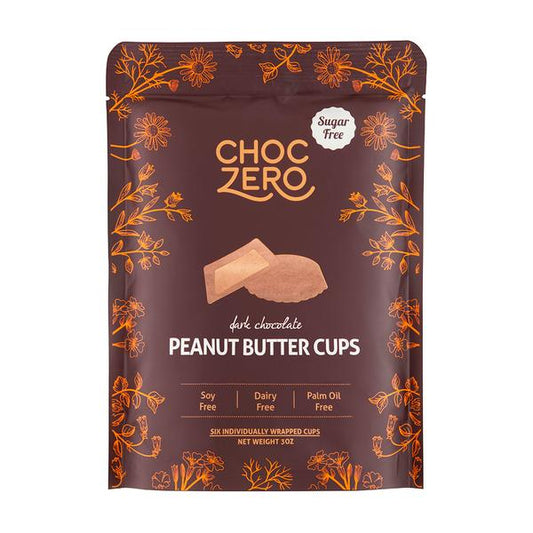 New York Dill Pickle Almonds
New York Dill Pickle Almonds
Pizootz
If you're looking for a crunchy snack with a little zing, Pizootz has just the thing for you. These New York Dill Pickle almonds will wake up your taste buds with a ton of zesty flavor! Pizootz was founded by Dr. Alfred P. Pizootz. He developed a technique to set these nuts apart from your average almond. Pizootz almonds come bursting with flavor because they are infused for 24 hours! The result is a bag of nutritious and crunchy almonds that really pack a punch!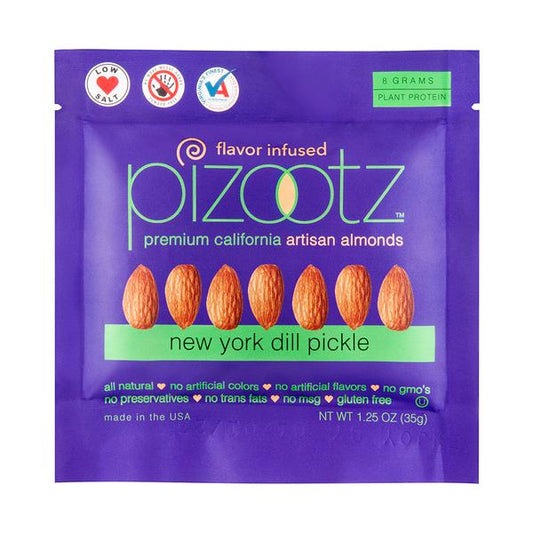 Champion Chip Chocolate Chip
Champion Chip Chocolate Chip
The Cookie Department
While lots of food product companies have jumped on the Keto bandwagon over the last couple of years, it was a deeply personal endeavor for Akiva, the founder of The Cookie Department. When the ketogenic diet was suggested for his wife Elannah, who was being treated for traumatic brain injuries, he pivoted his cookie company to become what we now know as The Cookie Department! Just one bite and you will taste the love and care that Akiva puts into each delicious cookie. These cookies are the real deal!
Make It Yours
20% Off
Code:
KRATE20
Expiracy: March 05, 2022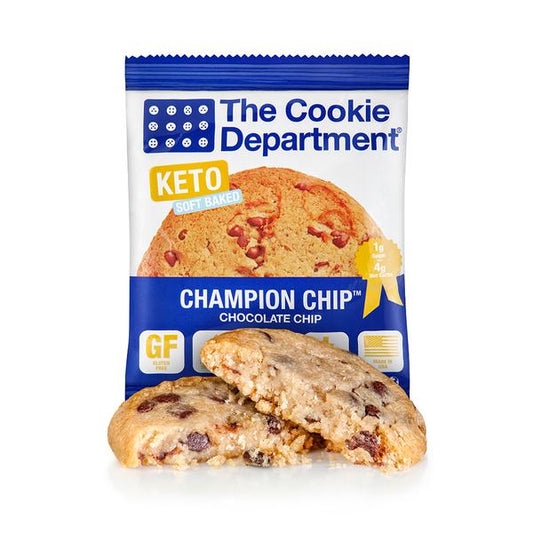 Wild Blueberry
Wild Blueberry
IQ Bar
When you're hungry and on the go, you want a snack that will keep you full and satisfied, taste great, and keep you on track with your goals. And this IQ Bar wild blueberry bar checks all those boxes and more! Each bar has a unique combo of science-backed brain compounds to keep you on top of your game. Plus, 12 grams of plant protein! IQ bars are also free of sugar alcohols, GMOs, gluten, dairy, and soy. So your mind can feel as good about what you're eating as your taste buds!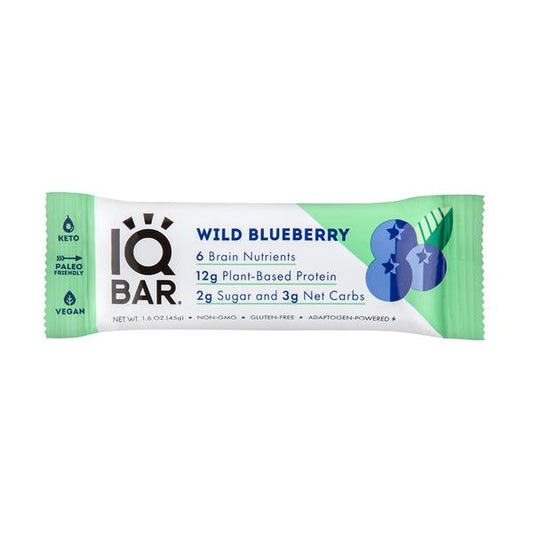 Grass Fed Beef Bar
Grass Fed Beef Bar
Mission Meats
As Keto'ers, we're all on a mission to cut the sugar out and live healthier lives. And Mission Meats is a welcome partner in our Keto journey! Their mission is to provide food you can feel good about and to help foster positive relationships among each other and nature. So they source only the finest grass-fed beef and give 10% of their profits to organizations doing social good. Their grass fed beef bars are the perfect option for an active day hiking, an afternoon break at work, or a snack attack in the school pickup line.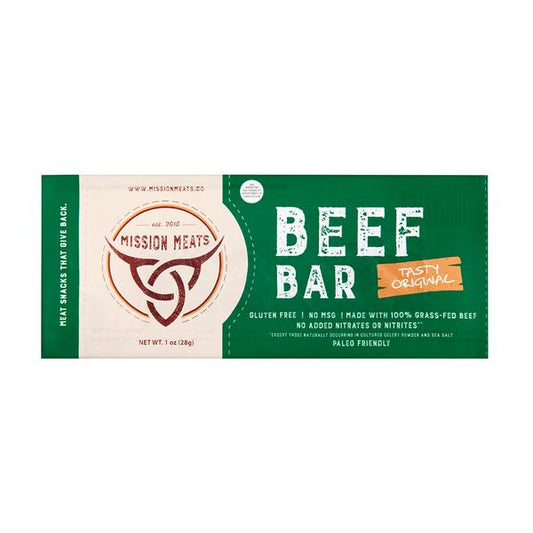 Baked Cheddar Puffs
Baked Cheddar Puffs
Better Than Good
If you thought starting the Keto lifestyle meant you had to give up crunchy, cheesy snacks; you thought wrong! Thanks to Better Than Good Snacks, we can get all of that cheesy crunch without sacrificing our health and falling off plan. These baked cheddar puffs are made with 100% natural whey protein and a fruit and vegetable blend. They're gluten free, soy free, nut free, and boast 16 grams of protein! With those nutrition facts, great taste, and a mega crunch — they blow those non-Keto cheese puffs out of the water!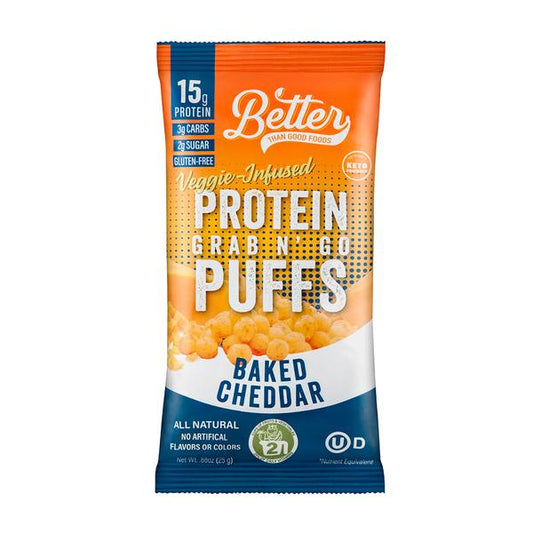 Ranch Pork Rinds
Ranch Pork Rinds
Pork King Good
If you're a seasoned Keto'er, you know that not all pork rinds are created equal. And us Keto'ers at KetoKrate search far and wide for the best of the best, like these crunchy ranch pork rinds from Pork King Good! Cooked in their own pork fat and free of artificial ingredients, colors, and flavors; Pork King Good takes pride in bringing us a light and fluffy, melt in your mouth pork rind that tastes amazing. Add a zesty ranch flavor, and we can't get enough!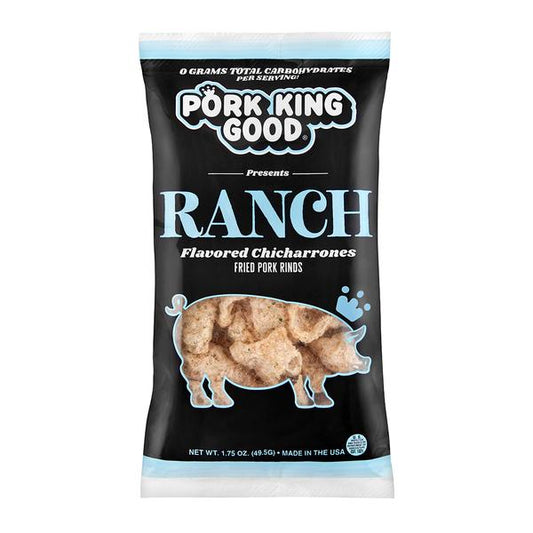 Original Beef Stick
Original Beef Stick
Real Snacks
Beef sticks are a quick on-the-go snack that will make you feel full and satisfied while helping you reach your protein goal. And the beef sticks from Real Snacks are top notch! At Real Snacks, they pride themselves on using only real ingredients that you can pronounce. All of their beef sticks are made with 100% USA beef, and they'll never use any fillers, chemicals, or artificial curing agents in their products. One bite and we're sure you'll taste the difference!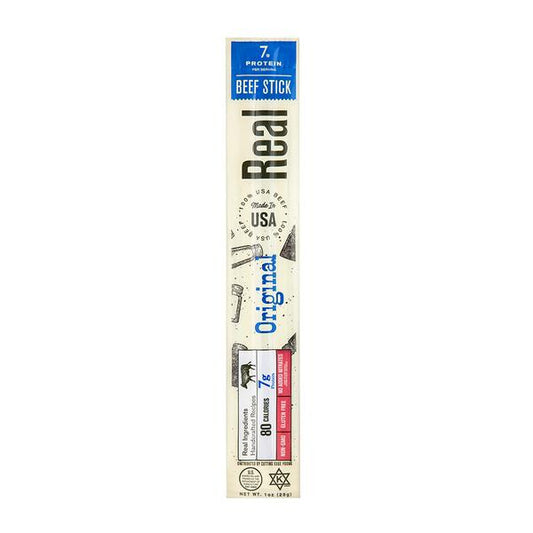 Maple Pumpkin Super Coffee
Maple Pumpkin Super Coffee
Super Coffee
We're heading into the busiest season of the year and we think that calls for just one thing: coffee! But there's no need to head to that coffee shop where a coffee can contain more carbs than a milkshake. Super Coffee is here to save the day! They only use ingredients that are great-tasting, great for you, and sustain you for the long haul. No added sugar, just added positivity! And thanks to this maple pumpkin flavor, we can get our pumpkin spice fix without the carb coma! Just call us #basicketo'er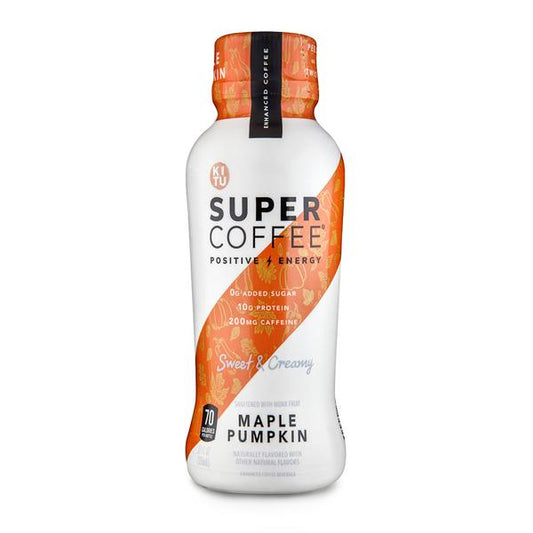 Chewy Nutty Dark Chocolatey Sea Salt & Almond Bar
Chewy Nutty Dark Chocolatey Sea Salt & Almond Bar
Love Good Fats
Do you like your snacks to be chewy? Nutty? Chocolatey? Who doesn't! And thanks to Love Good Fats, we have the perfect chewy nutty chocolatey snack in a convenient on the go bar! Founder Suzie York spent years cutting the fat out of her diet only to end up feeling worse than before. Once she realized it was the sugar and carbs that had to go, she knew she needed to find a healthy snack that would keep her satisfied. And so the truffle-like Love Good Fats bars were born! Perfect for a quick snack on the go, or an after dinner indulgence. Fat is back, sugar is out!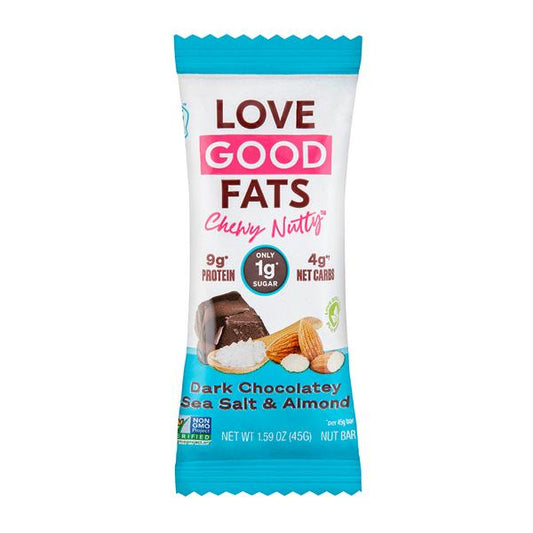 Cocoa Dusted Almonds
Cocoa Dusted Almonds
Keto Farms
If you're an almond lover, but you're wanting something a little sweet, Keto Farms delivers with these crunchy cocoa dusted almonds. The folks at Keto Farms are Keto'ers like us. Founders Ben and Brandon know what it's like to have a craving that leads to falling off the wagon. So they set out to create a brand of Keto snacks that were made with real food and satisfied real cravings! With this bag of crunchy, sweet, and delicious almonds; we'd say they've succeeded!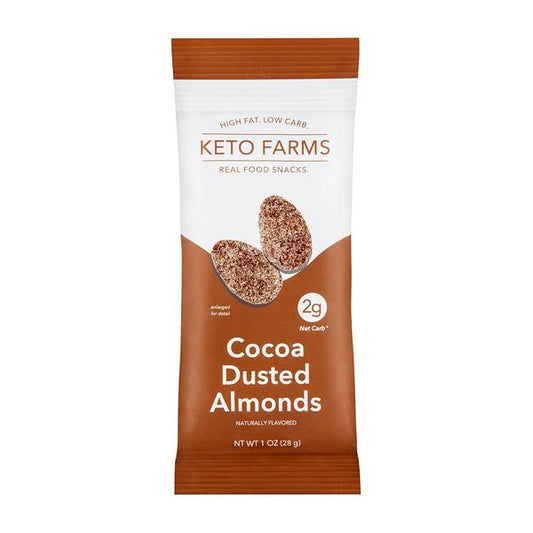 Rancheros
Rancheros
Quevos
If you find yourself missing chips on Keto, we've got an EGG-cellent alternative! Quevos egg white chips have all the crunch and flavor of a chip with none of that carby guilt. Quevos began when founder Zack, a type 1 diabetic, was looking for a way to satisfy his chip craving without needing an insulin shot. Along with his sister Carly and friend Nick, they found a way to turn nutritious egg whites into a crunchy chip with a fraction of the carbs. This quevos rancheros flavor is sure to spice up your Keto diet with a burst of flavor and crunch!