knowledge
Arrgghh! I'm (Still) Fat and I Don't Know What to Wear - 5 Style Tips That Won't Fail Your Inner Fashionista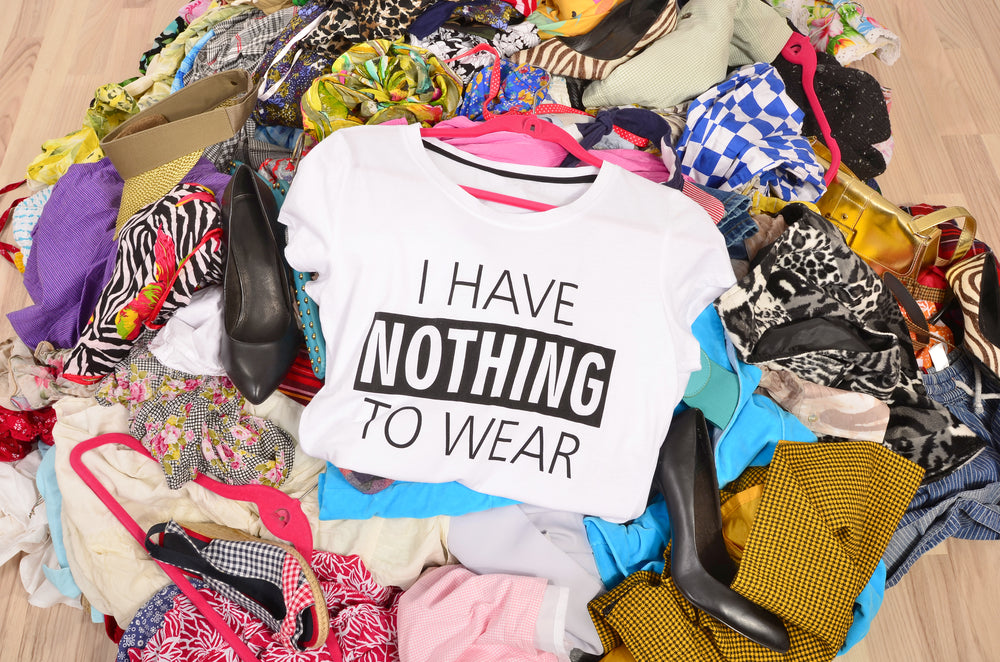 A few months ago I attended Expo West. It's a humungous trade show where "healthier food brands" introduce their products to retailers, distributors, and potential buyers in the hopes of getting picked up by a major chain like Costco and striking it rich! <keep your eyes peeled for my hot take on this year's food trends and how they aren't healthy at all> 

It's one of my favorite events of the year because I get to meet the founders of many up-and-coming snack brands, and some of your past KetoKrate favorites. Curious about how we pick our products? Read this!

Anyway, it was the first time I HAD to go somewhere and not look like I had just crawled out the backside of a pandemic. I mean, I did, but I didn't want to look like it. I was SUPER stressed out. I hadn't worn anything but leggings and pajamas for basically 2 years straight and while avoiding COVID-19, I packed on the COVID 20 (lbs…that is). 

When I attempted to put together some ill-fitting ensemble, remnants of my pre-COVID wardrobe, I was physically uncomfortable and unhappy with the way I looked. Things were spilling over the tops and sides of my pants (AKA torture leggings) and I was getting deep, painful, red marks from the waistband digging into my skin. I guess that's what happens when you're trying to fit 60lbs of ass into 40lb ass-capacity pants. Wearing tops wasn't any better. It was like having a really honest five-year-old with me at all times telling everyone who would listen that I had gained weight.  


Needless to say, I wasn't happy and I had to go shopping. 


Shopping when you're overweight is never fun. I've cried under the harsh lights of a dressing room more than twice in my life. In order to avoid this, I decided I was going to learn about dressing my body - which fabrics and cuts would flatter my body while keeping me cool - both physically and fashionably. 


After watching a 6-hour masterclass, scrolling countless Pinterest boards, reading dozens of blog articles, and 1.5 million  "what do fashionable fat people wear?" google searches I think I finally figured it out. 
Step One: Know Your Proportions and Dress for Them
Bodies come in different shapes and sizes. Knowing your proportions will be key in helping figure out what works best for your body type. We've all heard of the standard body types; apple, pear, hourglass, inverted triangle, etc. However, I found I didn't quite fit into any of the standard shape rules, especially when I had gained weight. Instead, I took the basic shape I felt I was closest to (hourglass) and started looking at my body by section. 

My arms are bigger but my proportions are in line with the size of the rest of my body. 
My bosom is smaller than what you would expect for someone with a typical hourglass shape. 
I have a relatively smaller waist than my hips when viewed head-on. 
My belly is round and protruding when viewed from the side and I carry a lot of it in the lower "pooch" section.
Larger hips/upper thighs and narrower legs. 
From there, I picked the features I liked and wanted to highlight or hide. 
Accent smaller waist/hide the protruding belly. 
Accent bosom area to even out my waist/upper body proportions 
Hide my fatty upper arms
Accent the shape and counter of my slimmer legs 
Step Two: Know Who You Are and Be Yourself
This one is HUGE! I can't tell you how many times I've gone into a plus-size clothing store with no clue about the style I wanted to achieve. I would end up with outfits that fit physically but weren't representative of WHO I am. The sad part is I'd spend a ton of money and still feel like I had nothing to wear. This was especially true coming out of the pandemic. I didn't really know what my personal style was anymore. I mean just take a look at this picture from our about us page. It was taken in 2021 and I literally had no idea what the hell I was doing. 


I didn't want to repeat last year's fashion fiasco so I started to get really intentional about the image I wanted to portray and what that meant in terms of my fashion choices. I started scrolling Pinterest and creating mood boards with words and images of what I wanted to achieve. I spent days creating and adjusting my mood board. It seemed like a lot of work upfront (at this point I still had nothing to wear) but the payoff was that when it came time to shop in-store and online I knew EXACTLY what I was looking for. 
Remind me to burn this outfit later. 
Step 3: Creating the Capsule 
After you've identified your personal style it's time to create the wardrobe capsule. If you've never heard of a wardrobe capsule before (I hadn't) today is your lucky day! 


A wardrobe capsule is a limited collection of interchangeable clothing pieces that complement each other. Having one ensures that every item in your closet has a purpose and is a core part of your clothing rotation. This saves SO much time, energy, and money all the way from shopping for the pieces to getting dressed confidently every single day.  Creating a capsule wardrobe was one of the best things I've done for myself. 


Once you create your starter capsule you can curate and swap items out seasonally. 
A big emphasis on capsule pieces is that they are classic styles that will never fall out of fashion. You don't need a lot of clothes but you need them to do a lot of jobs. 

My Capsule Wardrobe consists of the following items. 

Clothing:




Shoes:
Accessories (optional):
1 sunglasses

1 hat

1 handbag 
I'm no math expert but just by paring the different clothing items, you can realistically create 264 different outfits! Again, the key is that every piece is timeless and flattering on your body. 


Step 5: Picking Your Colors 
Choosing the colors you want to include in your capsule wardrobe is important. You want enough color to be versatile but not so much that it's hard to mix and match. Sticking to 3-4 classic colors with a balance of lights and darks makes it easy. Remember there's room to add 1-2 statement pieces you absolutely love to your wardrobe as well. This will give you the drama you're looking for in your style without becoming overwhelming or singularly purposed. Here are some classic color combinations you can try: 
Step 6: Finding the Clothes (AAAAWWW YEAAAH!)
Now comes the fun! After you've completed the first 4 steps you can start looking for the items you will buy. This can be in-store or online (I usually use a combination of both).  I find that online stores will often have more style selection. The downside is you don't know how it's going to fit until it arrives. 


Some tips before you shop: 
Review step 1 and research brands, fabrics, and cuts that accentuate or hide the parts you want.  I have a shorter neck so a quick google search on "what clothes make your neck look longer" helps me find the cuts that will be most flattering. 
*hint* V neck, off-the-shoulder, low scoop, and sweetheart necklines will elongate your neck. Turtle necks and crewcuts, scarves, bows or ruffles at the neckline will shorten it.


Do this for each clothing category (tops, bottoms, blazers, jackets, dresses)

Go in with a plan of what exactly you're looking for. If you find a cut or silhouette that looks good on you. Buy it in three colors according to what you decided (dark, light, and statement) 
When you're shopping in-store: If it's not a "hell yes" it's a "hell no". I've made this mistake countless times thinking that a piece might grow on me. It rarely does and ends up sitting in my closet with the tags on.
If you feel like you're too judgmental about the way something looks on you ask a trusted friend who will be honest to shop with you, get your opinion from someone else in the change room, or ask a store associate for their opinion. The caveat is that if you LOVE something and your opinion person doesn't their opinion no longer counts. That works the opposite way as well. If everyone is LOVING something on you but you're uncomfortable, sucking in, or standing funny - do not buy that piece. You won't wear it. 
Summer can be a particularly tricky season to dress for. What outfit makes sticking to a seat look cute? 
If you're creating a summer-specific capsule swap long pants for flattering shorts; choose cotton and other natural fabrics over synthetics, wear lighter colors, choose loose but well-fitting breezy tops and add in a summer dress or two that accentuate your ideal silhouette. 

And remember!
Don't Cover — Contour! 
When we're feeling uncomfortable in our body, our natural instinct is to wear big and loose-fitting clothing to cover it up as much as possible. Not only does this not help keep us cool and comfortable in the summer heat, but it also tends to emphasize, rather than complement, the size of our body. It may feel counterintuitive, however, wearing clothes that show our curves and contours is actually a lot more flattering. Try allowing your shape to show through! Clothes that cinch at your waist, but are still flowy on top and bottom will give you comfort and room to move, while still letting those beautiful curves shine! 


Show it Off
There's nothing worse than sweating through an event on a hot summer day because you're trying to keep yourself covered up. While feeling confident enough to show a lot of skin might take some time, try starting small. Pick an area of your body that you love (or at the least, feel neutral about) and let it see the sunlight! If you feel great about your arms, go sleeveless to keep you cool while you cover other areas that you might not be so confident about. If your legs are your favorite asset, throw on some shorts with a more covered-up top. High-waisted pants are perfect to pair with a crop top to show off just a sliver of your midriff, while also keeping you cool and stylish. Or look for tops with a fun cutout in the back! You are beautiful, and don't deserve to be sweltering in the heat just because your body doesn't fit into a size 2. 


Follow Your Own Trends
If you've spent even an hour on social media lately, you've probably been inundated with ever-revolving fashion trends. Remember, trends come and go. It's way more important to dress in a way that makes you feel good. Low-rise pants may be coming back (ugh! whhhyyyyy) but that doesn't mean they feel right for you. If a high-rise fit makes you feel comfortable and confident, rock that look! The word on the street is that skinny jeans are out. But if having that tapered leg helps balance out the shape of your body, we say throw those skinnies on unapologetically! Rather than following trends blindly, experiment with all of the options to see what makes you look, and more importantly
feel
, amazing! 

It's 2022 and we think it's long past time to give up feeling like our bodies don't deserve to enjoy the summer, no matter what they look like or what size they are. I'm happy to announce I'm back to losing my COVID 20 and feeling great in the clothes I'm in now has definitely boosted my confidence and desire to keep going! 

What are you wearing this summer? Let's have a conversation in the comments!