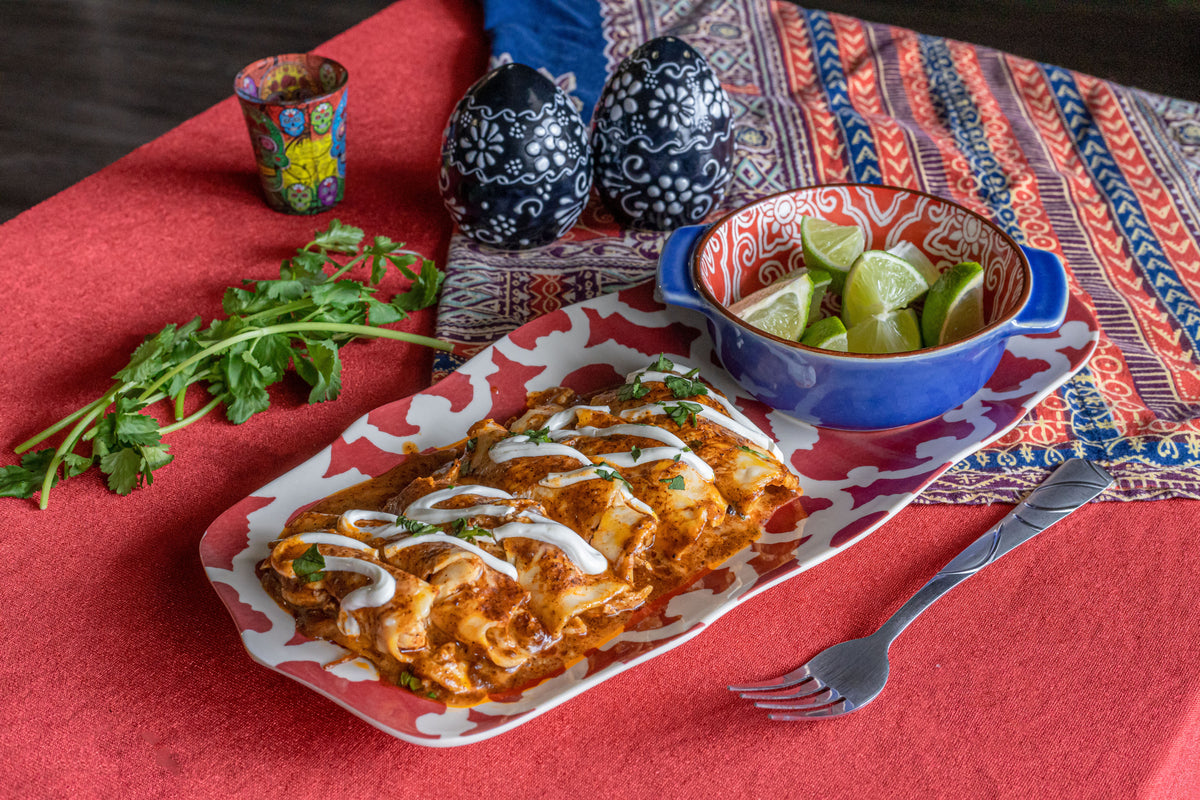 These high protein keto enchiladas are the perfect recipe to add to your dinner repertoire! This is a quick and easy recipe that you can whip up for a weeknight dinner the family will love. Packed with protein, you won't even miss the tortillas! Plus, you can prep the entire dish ahead of time for a quick option to stick in the oven after a long day of work. Delicioso!
Sauce Directions:
Combine xanthan gum and all sauce spices into a small bowl

Heat oil in a saucepan over medium high heat for 2-3 minutes, until it starts to sizzle when you sprinkle a bit of the spice mixture on top

Pour spice and xanthan gum mixture into oil while whisking vigorously

Continue to whisk for a minute or so, until mixture begins to darken

Whisk in tomato paste and chicken broth until fully combined

Bring mixture to a simmer and continue cooking for 5 minutes to allow sauce to thicken (turn heat down slightly if it begins to comes to a full boil)

Remove from heat and stir in vinegar
Set aside while you assemble enchiladas
 Enchilada Directions:
Note: Pre-cook chicken ahead of time in oven, microwave, or slow cooker. Let cool and shred.
Recipe Hack: Use store bought rotisserie chicken for easy prep!

Preheat oven to 350℉

Lightly grease 13x9 casserole dish with oil to prevent sticking

Portion out ½ cup of the shredded cheese

Mix chicken, salt, pepper, onion, and ¼ cup of the enchilada sauce in a medium bowl

Lay out deli chicken slice and fill with chicken mixture (don't overfill to make rolling easier)

Top filling with some of the portioned out cheese and carefully roll up chicken slice around the filling

Place in casserole dish with seam side down

Continue filling remaining chicken slices, topping with cheese, and placing in dish

Pour remaining enchilada sauce over all enchiladas in casserole dish

Top with remaining ½ cup of cheese

Bake for 10-15 minutes, or until cheese is melted and sauce is sizzling

Garnish with cilantro, sour cream, and fresh squeezed lime juice