knowledge
KetoKrate's June 2023 Keto Snack Recap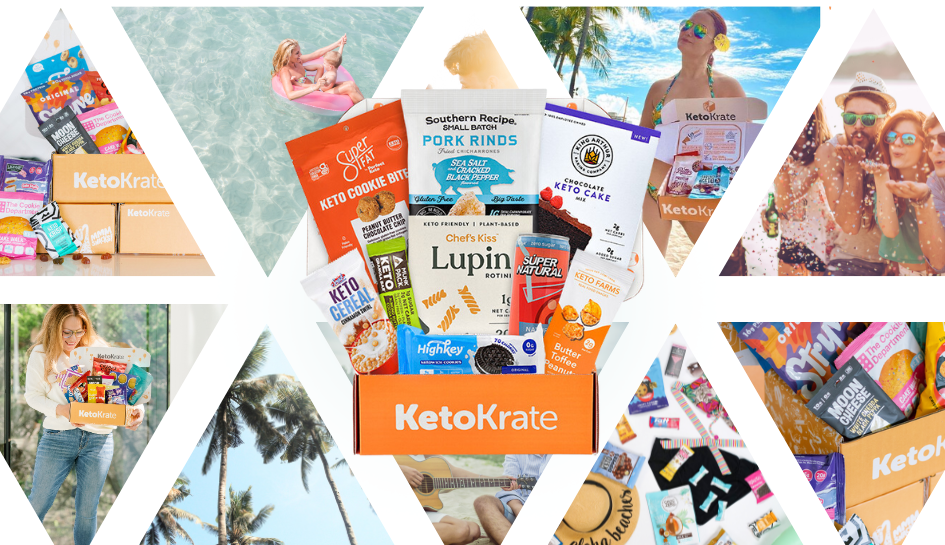 KetoKrate's June 2023 Keto Snack Recap 
Well, hello there my keto-loving friend! I hope you're having the most incredibly fun, snack-filled summer ever!  We definitely are! In fact our summer snack game is hotter than ever with enough low-carb goodness to make even the most reserved keto enthusiast break out and do the happy dance. Join me as we dig in and discover the June 2023 KetoKrate! 
One of the best parts about getting KetoKrate each month is that you get to try an ever changing selection of snacks without having to order a 6, 12, or even 24 pack of a single snack plus pay shipping. C'mon, premium keto snacks are expensive and you don't even know if you like them yet! 
With KetoKrate you get to try 8-11 full sized keto snacks every month for only $39.99 shipping included! Curious about how we choose the snacks that go into KetoKrate? Check out this blog post on how we choose our snacks!  Wanna try KetoKrate for yourself? Sign up today and let's get snackin'! 
The theme for this month's KetoKrate was "Fuel Your Fun," and boy, did the  keto snacks deliver. Let's take a peek!
High Key Sugar Free Sandwich Cookies
First up, we had the "Sugar Free Sandwich Cookies" by High Key. These cookies were like little discs of keto magic. Imagine biting into a world where sweetness reigns but sugar doesn't. These cookies were so delicious, I wanted to build a fort out of them and live there forever. Who needs gingerbread houses when you can have a cookie castle?
Snackhouse Cinnamon Swirl Keto Cereal 
Next, we discovered "Cinnamon Swirl Keto Cereal" by Snackhouse. This cereal is a waving flag signaling the keto breakfast revolution. It was a crunchy, cinnamon-infused wonderland that made mornings worth getting out of bed for. Move over, sugary cereals, we've found a new keto breakfast hero to follow. 
King Arthur Baking Co. Chocolate Keto Cake Mix 
Then, we stumbled upon the "Chocolate Keto Cake Mix" by King Arthur Baking Company. Who said keto meant no cake? Not anymore! This mix was a game-changer. It turned your kitchen into a keto bakery, filling the air with the aroma of rich chocolatey goodness. It was like having your cake and eating it too, minus the sugar-induced guilt.
Super Natural Zero Sugar, Zero Calorie Cola 
Quenching our thirst, we found the "Zero Sugar, Zero Calorie Cola" from Super Natural Soda. This was no ordinary cola; it was the superhero of carbonated beverages. Sipping this fizzy delight was like having a party in your mouth without worrying about your waistline. I wouldn't be surprised if this soda had a secret cape hidden somewhere.
Keto Farms Butter Toffee Peanuts
Butter Toffee Peanuts by Keto Farms were the next treat to captivate our taste buds. These little nuggets of delight were like a sweet and savory symphony. I could practically hear the peanuts singing in harmony with the buttery toffee coating. They were so addictive that I momentarily considered starting a Butter Toffee Peanut fan club. Who's in?
Super Fat Peanut Butter Chocolate Chocolate Chip Mini Cookies 
As if that wasn't enough, we ventured into a mini world of delight with "Peanut Butter Chocolate Chip Mini Cookies" by Super Fat. These bite-sized wonders are truly little fat bombs of happiness. With their peanut buttery goodness and bursts of chocolate chips, they were the ultimate guilt-free indulgence. I may have eaten the whole bag in one sitting, but hey, the whole bag is only 6 net carbs, so it's practically a keto diet victory, right?
Chef's Kiss 1 Net Carb Lupin Rotini Pasta
Now, brace yourselves for keto pasta perfection with "1 net carb Lupin Rotini" by Chef's Kiss. Move over, traditional pasta and get out of here shiritaki noodles; there's a new guy in town and he's low carb. The texture of this low-carb rotini was unheard of in the keto world.  Now you can transform your favorite pasta dishes into keto-friendly works of art. I swear I heard angels singing as I twirled those little spirals around my fork.
Munk Pack Almond Butter Cocoa Chip Granola Bar
Feeling a little nutty, we discovered the "Almond Butter Cocoa Chip Granola Bar" from Munk Pack. It was like a tiny handheld adventure packed with nutty goodness and chocolatey surprises. This bar was the perfect on-the-go snack for all your keto cravings. It was so delicious that I secretly wished I had a granola bar holster for easy access at all times.
Southern Recipe Small Batch Sea Salt and Cracked Black Pepper Pork Rinds
Last but not least, we encountered the "Sea Salt and Cracked Black Pepper Pork Rinds" from Southern Recipe Small Batch. These pork rinds were the ultimate snack attack saviors. With their zesty seasoning and addictive crunch, they were like a party in your mouth. I'm pretty sure I heard confetti pop every time I took a bite.
And there you have it, folks, the June 2023 KetoKrate in all its flavorful keto snack glory! From sugar-free sandwich cookies to cinnamon swirl cereal, chocolate cake mix to guilt-free cola, butter toffee peanuts to mini cookies, low-carb pasta to almond butter granola bars, and sea salt pork rinds, this KetoKrate was a keto snack extravaganza that had us laughing, snacking, and livin' the good life. 
Is KetoKrate Worth It?
We often get asked if it's worth getting a KetoKrate when you can simply buy the snacks yourself. It's a great question! Let's break it down. 
First, many of the snacks you get in KetoKrate can't be found in store which means you have to order them online. Remember, you typically need to buy 6, 12, or 24 packs of each snack just to try them out when buying them online. That leads to a hefty price tag and additional shipping costs. We calculated the totals and:
If you were going to order each of these snacks separately you will have spent $147.87 just for ordering the snacks! The shipping alone for all of these snacks is $37.24 almost the same price as a KetoKrate! With KetoKrate you can try before you buy and then reorder your favorites. 
One of the perks of being a KetoKrate member is that you also get access to our Members' Only Keto Shop where you can repurchase your favorite snacks or try ones you've missed out on with no minimum order quantities and free shipping! That's a pretty sweet deal! 
If you're ready to start snacking smarter, join KetoKrate today! We'll ship your Krate full of snacks tomorrow and all you'll pay is $39.99. Shipping is free and you can cancel anytime!
Remember, my keto amigo, laughter is the best seasoning. So, embrace the keto life, enjoy the tasty treats, and keep fueling your fun with every bite. Until next time, stay cheesy and keto on!