knowledge
KetoCon 2022 Recap: The Keto Community is Going Strong!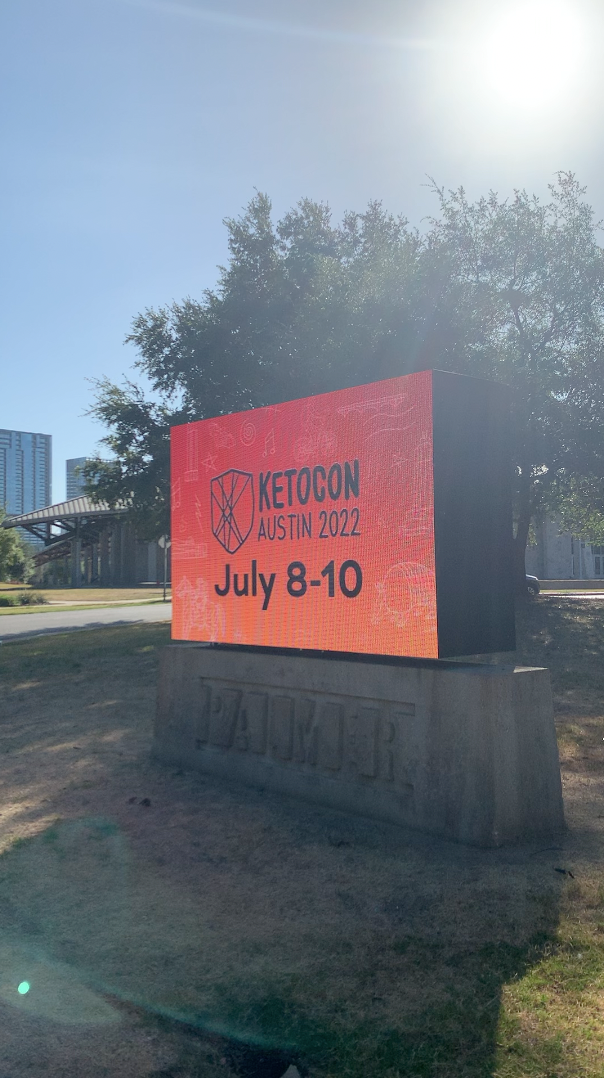 After two long years of delays and postponements due to COVID-19 safety concerns and social distancing, KetoCon finally returned to Austin, Texas in July, 2022. And we're excited to tell you that the keto community showed up!

Whether you were taking in a talk from one of the more than 70 speakers, watching an interactive cooking demo, or browsing the vendors in the exhibitor hall; you could feel the keto energy pulsing through the event!

With the current state of the world, and having lived through the last two and a half years of
unprecedented times
, health is a major topic in our everyday lives and in the mainstream media. But the people representing the keto community at KetoCon really put their money where their mouth is. It is clear that keto'ers are on the right track to uncovering what truly keeps us healthy and thriving as humans. And it was beyond inspiring to watch the leaders in our community help and inspire others to follow in their footsteps.

Unfortunately, we know that not all keto'ers were fortunate enough to be able to make the trek to Texas (lucky for the KetoKrate team — the event is held in our home city!), so we're bringing you all the details and all of the fun right here! 
Keto Community 
The Palmer Events Center was buzzing with energy and excitement during the three day KetoCon event. From social media friends meeting in person for the first time, keto'ers getting the chance to meet their keto idols, and old friends catching up; there was a lot of keto love in the air! 

Listening to the speakers give their talks on the mainstage and in the breakout rooms can provide a wealth of insight and information on how to optimize keto for your life, but it's the impromptu conversations and chance meetings in the exhibit hall that make KetoCon an especially meaningful event. Everyone has a story. Most of us found keto after years of struggling with weight gain, medical issues, and even mental health challenges. Keto has been a life-saver for many of us, and to be surrounded by others who have gone through different, but similar experiences, and who have all come together to celebrate their mutual success is an amazing feeling. 

While the room was filled with people who had inspiring stories to tell, it was also a place to let loose! So we rolled out the
Orange Carpet
and grabbed our KetoKrate full of questions — some topical and some silly! — to inject some KetoKrate fun into the crowd! Be sure to keep an eye on our social media for all of your favorite keto personalities giving us the answers you need to know! 
Top 5 Vendor Booths 
If you know anything about KetoKrate, you know we love snacks! So of course one of our favorite parts of KetoCon was scoping out all of the vendors for the best new keto snacks on the market. While there was delicious Texas BBQ available right across the street from the event center (shout out to Terry Black's!), let's just say that we didn't feel the need to take a lunch break after the abundance of product samples from all of the booths!
Whether you were on the hunt for sweet desserts, savory snacks, baked goods, or refreshing drinks; KetoCon delivered! It was no easy task to narrow down our choices, but here are our picks for our top five favorite KetoCon booths!
#5 RSVP Skinnies
If you've been a KetoKrate subscriber for a while now, you know that we're huge fans of RSVP Skinnies! We were so excited to finally get to meet founders Ani and Mario in person. Staying keto during cocktail hour used to mean having to miss out on all the fun and fruity libations. But not any more, thanks to delicious sugar-free drink mixes that you can easily throw in your purse or bag for a night out at the bar, or a day by the pool! Ani and Mario let us sample all of the flavors, hooked us up with some packets to take home, and made it all feel like a party! 
#4 Dream Cookies
If you're looking for a new keto cookie option, your dream is now a reality! It was a dream getting to meet Ugo, the founder of Dream Cookies at KetoCon. Their soft-baked caramel chocolate pecan cookies were a delicious keto treat, and clearly a huge win for all event-goers, as they had already sold out on day two! Ugo greeted everyone with a friendly smile and we loved getting to hear about this new woman-owned keto business. We know they are going to go far! 
 #3 Keto Krack'd
Keto candy is always a favorite among the KetoKrate team, and the candy from Keto Krack'd is to die for! Samples of their aloha coconut caramels and "butter" finger peanut butter bars were flying off the table — and for good reason. Not only do they taste delicious, but they're dairy-free, have no added sugar, and are filled with ingredients that you can feel good about eating. They say they've "krack'd" the code on keto candy, and we would have to agree!
#2 Certified Piedmontese 
After a barrage of keto cookies and sweets, our palates needed a bit of a reset. And to our delight, Certified Piedmontese had just the refresher we needed…STEAK! That's right, the folks at the Certified Piedmontese booth were grilling up steaks all weekend. And not just any steaks, but some of the best beef we've ever taste
d! Not only do they ship this beef straight to your door, but
they raise the rare Piedmontese cattle breed through a ranch-to-fork approach that ensures traceability, environmental sustainability, and humane animal handling. Plus, they're never given antibiotics, steroids, or hormones. Trust us when we tell you, you can taste the difference!

#1 Ketonia
The coveted #1 spot goes to Ketonia! Ketonia is a family affair with mother and son Geri and John (along with John's girlfriend) creating amazing keto products that make sticking to a keto diet a breeze! Geri is an award winning French pastry chef, so it's no surprise that the Ketonia booth was filled with delicious food that you would never know was keto. From hot grilled cheese, to pizza, to powdered donut holes; the Ketonia booth was like stepping into your mom's kitchen (if your mom was an award winning chef!) And the Ketonia team made us all feel like family — even providing us with a whole pizza of our choice! They definitely know the way to the KetoKrate team's heart! 


Keto Knowledge 
The snacks and the community were enough to make the three day KetoCon event an amazing experience, but there was more! Thanks to a whole host of speakers on topics ranging from using keto to regulate hormones, eating a meat-based diet, fasting for women, and healing with the ketogenic diet; there was so much knowledge to gain. 

Seasoned keto'ers know that the medical community doesn't always embrace this way of eating. So to be surrounded by doctors, dentists, registered dieticians, and others with first hand experience using keto to help and heal is a reassuring feeling for those of us who have made keto our long term lifestyle. 

Some stand-out talks included Dr. Anthony Chaffee discussing how a meat based diet can help people living with auto-immune diseases, PCOS, diverticulosis, and aid in gut healing. Dr. Mindy Pelz gave us the rundown on how women who are seeing negative side-effects from fasting can switch up their routine to coincide with their cycle. And Ali Miller, RD explained how a ketogenic way of eating helps optimize our immune response to protect us from things such as viruses. 

The more you learn about the ketogenic diet and the effects it has on our bodies, the easier it is to find the incentive and motivation to stick with this healthy way of life. 


See you in 2023?

We can't thank the organizers of KetoCon enough for bringing this fantastic community together to learn, grow, and celebrate all that we've accomplished. We look forward to continuing to expand our knowledge, making new keto friends, and of course…eating some more snacks next year! We hope to see you there!