knowledge
KetoKrate's Top 20 Keto Snacks For Summer 2023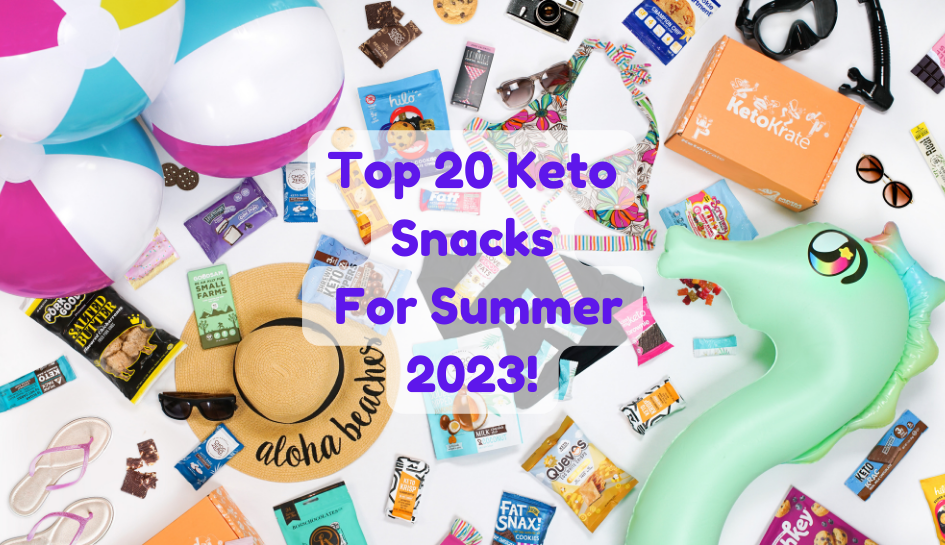 KetoKrate's Top 20 Keto Snacks For Summer 2023
🌞🥓 Summer is sizzling, and we've got a conga line of keto snacks that will make your tastebuds do the tango. Want to try these tasty summer treats without having to commit to buying a whole case before you've even tried them? That's what KetoKrate is here for! These keto snacks are featured in KetoKrate's summer lineup. They're ready to show up so you can show out in your favorite summer style. From tangy and tantalizing tropical treats to refreshing, guilt-free indulgences, this keto snack lineup will have you feeling like you're savoring sunshine in every bite. We've left no palm tree unturned, no beach umbrella unshaken, and no coconut uncracked in our quest to find the ultimate summertime keto goodies.
🏝️🌴 Grab your sun hat, slather on that SPF, and join us as we reveal the top 20 keto snacks that will keep you snacking and shining throughout Summer 2023. Let's dive in and satisfy those summertime cravings the keto way. 🌞🍽️
Make this summer your most refreshing one yet with Super Natural Soda! Perfect for poolside sips, it's the all natural, zero sugar, zero calorie bubbly thirst quencher you've been waiting for. Excited to try Super Natural Soda? Try it in the July 2023 KetoKrate! 
Extraordinary summer days deserve extraordinarily tasty snacks. Packed with protein, SnackHouse puffs come in a wide variety of flavors from sweet wild berry cereal to savory cheese burger puffs to curb every craving. Snackhouse's Cheeseburger Keto Puffs are featured in the July 2023 KetoKrate! Join KetoKrate and try them and a host of other delicious snacks this summer! 
Dunk your way to a delicious summer with crispy, crunchy, cream filled cookies from High Key. The delicious keto snacks keep your summer keto snack game on point. High Key sandwich cookies were featured in the June KetoKrate. Did you know KetoKrate members get access to the Member's Only Keto Shop? They can try snacks they missed out on and re-buy their favorites with free shipping and no minimums! 
Experience a burst of summer with Tastelli's refreshing fruit flavors. Savor the juicy explosion of sweet berries, tropical mango and pineapple, tart green apple and grapes, or perfectly peachy drinkable konjac jelly. Pop them in the freezer for an ice cold treat that will keep you cool all summer long! KetoKrate members were excited to try the fruity refreshing taste of Pineapple Mango Tastelli in the May 2023 KetoKrate! 
No need to sacrifice fun or flavor with School Yard Snack Puffs. They're the ultimate keto snack time companions, bringing joy and deliciousness to every break. These crunchy, airy puffs are packed with flavor and enough protein to keep you satisfied.
 Quench your summer thirst and replenish your body with Ultima Replenisher electrolytes. With a refreshing array of flavors, including zesty lemonade and tropical punch, these electrolyte-packed beverages are the perfect way to stay hydrated during hot summer days. Each sip delivers a balanced blend of essential minerals, helping you to recover and rehydrate, so you can keep enjoying the sun-soaked season to the fullest.
Elevate your snacking experience with Catalina Crunch Snack Mix, the perfect blend of crunch and flavor. Indulge in a mouthwatering assortment of keto-friendly ingredients, from crispy nuts and seeds to savory cheese bites, all meticulously crafted to satisfy your snack cravings. Whether you're on the go, relaxing at home, or sharing with friends, Catalina Crunch Snack Mix is the ultimate guilt-free indulgence that will energize you and your taste buds! Look for them in an upcoming KetoKrate! 
Bantastic Brownie Crisps are bite-sized keto snacks that take guilt-free snacking to a whole new level. They're crispy, fudgey, sweet tooth satisfiers that won't derail your keto diet.
:ratio Chewy bars are perfectly crafted to fuel your adventures and satisfy your cravings. With a harmonious blend of delicious flavors and balanced macros, these bars are a must-have for those seeking a nutritious and tasty on-the-go option. Whether you're hiking, biking, or lounging by the beach, :ratio Chewy bars provide the ideal combination of protein, fiber, and natural ingredients to keep you energized and satisfied all summer long. KetoKrate members get to try TWO flavors of :ratio chewy bars in the July 2023 KetoKrate! 
OH EM GEE have you tried these keto friendly marshmallow delights yet? The taste and texture are EXACTLY like regular marshmallows except they're sugar free! Trust us they're so good they'll leave you wanting s'more! Don't miss out on trying this sweet treat! KetoKrate members will get a full sized bag of Choc Zero Smallows in the August Krate! Don't wait sign up today!
Try Genius Gourmet Crispy Protein Treats and let your taste buds do the happy dance. These crunchy, protein-packed snacks are here to save the day, turning your summer snacking into a flex-worthy experience. So go ahead, indulge guilt-free and flaunt your summer swagger while munching on the crispiest and cleverest protein treats around. Genius Gourmet Peanut Butter Chocolate Crispy Protein Treats will be making an appearance in the August 2023 KetoKrate!
Sinless Snacks Marshmallow Krisps are here to save your summer from flavorless boredom. Dive into these fluffy, chewy marshmallow squares and experience a party in your mouth that's so sinfully delicious, it should be illegal. With each crispy bite, you'll forget all about your diet and be ready to face the beach with confidence and a marshmallow-filled grin. Coming soon to a KetoKrate near you! 
The crunch that will make other keto snacks oink with jealousy. Dive into a bag of these crispy delights and let your taste buds embark on a vacation to Flavortown. With flavors so bold and satisfying, you'll be snacking like a boss and declaring yourself the reigning king or queen of porky goodness this summer.
These crispy triangles of awesomeness are here to rescue your taste buds from summer snack mediocrity. So grab a bag, lounge by the pool, and let your chips take you on a flavor-filled fiesta that will have you saying "hilo" to snacking satisfaction all summer long.
The sweet crunch that'll make your taste buds go nuts for summer. These delectable treats are so irresistible, you'll find yourself squirreling them away from friends and family. So go ahead, go nutty with Earthside Farms and make this summer a nutty, delicious adventure.
When it comes to summer snacking Better Than Good BBQ Protein Puffs are a total smoke show! Get ready for a BBQ flavor explosion that's better than any cookout, and make this summer the puffiest and tastiest one yet. Watch for them in an up coming KetoKrate!
Avinola is a spoonful of summer sunshine in every bite. Made with low-carb Lupini, it's the lowest carb granola we've found that packs both flavor and crunch in every cluster. KetoKrate members will get to try both Sweet Almond Coconut and Double Chocolate Sea Salt Avinola in an upcoming KetoKrate. Don't want to miss out on trying new keto snacks every month? Become a member for only $39.99 a month. Curious how KetoKrate works? We explain everything on our home page! 
Roam Sticks are KetoKrate's highest rated meat sticks ever! You can totally taste the difference pasture raised meat makes. They're ultra portable and ultra delicious. Whether you're hiking, camping, or simply soaking up the sun, let Roam Sticks be your trusty sidekick, bringing protein-packed deliciousness where ever you may roam.
Who wants to resist the urge to snack on sweet gummies during the height of summer? Not us! And fortunately, we don't have to. Scrummy Gummy Bears are chewy little bursts of joy made with all natural fruity flavors that capture the essence of summer in every bite. Watch for them in an upcoming KetoKrate! 
Unleash your inner sweetness with Tazzy Lollipops, the lollipops that will make your taste buds do the tango. These delightful treats are a whirlwind of flavors, from tangy twists to mesmerizing swirls, offering a captivating experience with every lick. Get ready to indulge in a lollipop adventure that will have you twirling with delight all summer long.
Looking for more treats to beat the heat? Check out these ice cold keto friendly summer recipes! 
 Simply Delish Orange Creamsicle Pudding Pop 
No Churn Cookie Blast Keto Ice Cream.
KetoKrate's Pina Colada Popsicles
As the sun-soaked season heats up, it's important to find keto snacks that keep you cool, energized, and on track with your keto goals. Whether you're lounging by the pool, embarking on a beachside adventure, or simply basking in the glorious warmth of the summer sun, we've scoured the ketoverse to bring you the absolute best of the best when it comes to keto summer snacking.
Unleash your inner keto snack explorer by joining KetoKrate and dive into a world of mouthwatering flavors, delightful textures, and snackable wonders that will make this summer your tastiest one yet!