knowledge
KetoKrate's July 2023 Keto Snack Recap!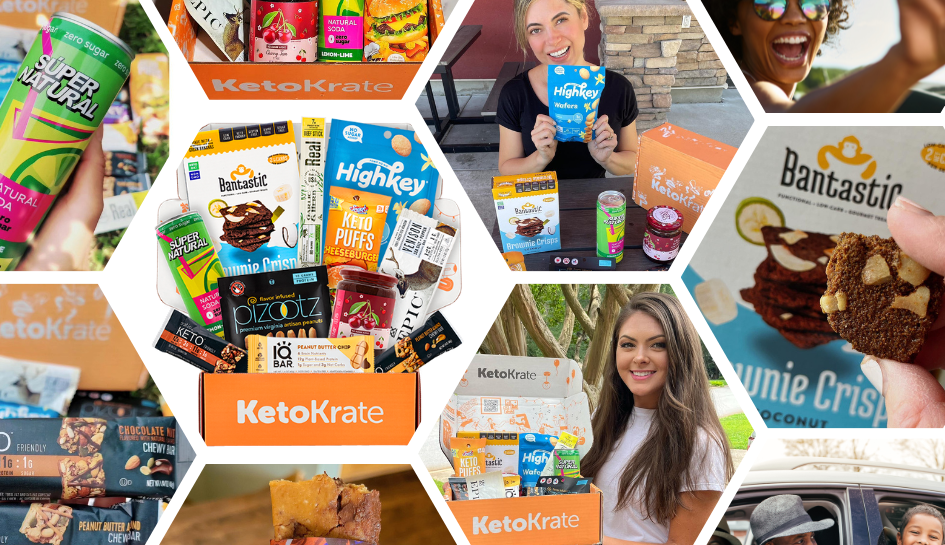 KetoKrate's July 2023 Keto Snack Recap!
Summer is in full swing, and with it comes the call of the open road, the thrill of adventure, and the joy of exploring new destinations. Whether you're embarking on a cross-country road trip or just taking the scenic route to your favorite swimming hole, one thing is certain: a road trip just isn't a road trip without snacks! This is where July's KetoKrate comes in clutch.
Discover the joy of a revolving assortment of delectable keto snacks without committing to bulk purchases or pricey shipping fees with KetoKrate! We understand that premium keto snacks can be expensive, and it's hard to know if you'll love them before trying. That's why we've got you covered. Each month, KetoKrate brings you 8-11 full-sized keto snacks at the unbeatable price of just $39.99, shipping included! No more hesitations - now you can indulge in a variety of flavors without breaking the bank. Are you struggling to stick to your Keto diet? This article on what to do if you've lost the fireworks in your keto diet might help! 
Don't miss out on the keto snacking adventure - sign up today and let's get snackin'! 🎉🍫🥜🍪🥤🌶️🍔🍒🌴
The theme for this months' KetoKrate was "Road Trip Ready"! We carefully selected a delightful array of keto-friendly snacks that are not only delicious but also perfectly portable for all your on-the-go needs. So buckle up, it's time to discover why KetoKrate is the ultimate road tripping companion that'll keep you (and your taste buds) fueled for adventure! 🚗🌞🥤
Are you curious about our snack selection process? Check out our blog post on how we choose our snacks to learn more! 
🌴 Bantastic's Coconut Brownie Crisps 🌴
The adventure began with these scrumptious coconut brownie crisps that whisked us away to a tropical paradise! Crispy, chocolaty, and coconut-infused, they satisfied our sweet cravings without the guilt.
🍒 ChocZero's Keto Cherry Jam 🍒
Next up, we discovered ChocZero's Keto Cherry Jam—a burst of fruity goodness! Spread it on High Key Vanilla Wafers for a heavenly combo that left us craving more.
🥜 Peanut Butter Chip Bar from IQ Bar 🥜
For those nutty about peanut butter, the IQ Bar's Peanut Butter Chip Bar was a dream come true. Packed with protein and flavor, it powered us through our day with a smile.
🦌 Epic Provisions' Venison Sea Salt and Pepper Bar 🦌
Time to go wild! This exotic snack featured Epic Provisions' Venison Bar, seasoned with sea salt and pepper. An adventure for our taste buds, the savory and tender venison bar was a unique and delicious surprise.
🍪 :ratio Peanut Butter Almond Chewy Bar 🍪
We couldn't resist the chewy goodness of :ratio's Peanut Butter Almond Chewy Bar. Nutty, satisfying, and low-carb, it was an energy-packed delight that kept us going.
🍫 :ratio Chocolate Nut Chewy Bar 🍫
And if you thought things couldn't get better, :ratio wowed us again with their Chocolate Nut Chewy Bar. A perfect balance of chocolatey goodness and nutty richness, it was a keto-friendly treat that made us feel indulgent.
🐮 Real Snacks' Garlic and Herb Beef Stick 🐮
For our savory cravings, Real Snacks' Garlic and Herb Beef Stick stepped up to the plate. A high-protein, keto-friendly snack that was bursting with flavor!
🍋🍈 Lemon Lime Soda by Super Natural 🍋🍈
Feeling thirsty? Super Natural's Lemon Lime Soda refreshed us with its zesty and bubbly goodness—zero sugar and packed with flavor!
🍔 Snackhouse Cheeseburger Keto Puffs 🍔
Hold on to your taste buds, because these Cheeseburger Keto Puffs from Snackhouse brought all the savory flavors of a cheeseburger in a crispy, guilt-free snack!
🥜 Raw Rev's Peanut Butter Dark Chocolate and Sea Salt Protein Bar 🥜
This protein-packed bar by Raw Rev blended the classic combo of peanut butter and dark chocolate with a dash of sea salt. A delightful way to power up our day.
🌶️ Pizootz Bay Spice Peanuts 🌶️
Finally, Pizootz Bay Spice Peanuts added a spicy kick to our snacking adventure! These bold and flavorful nuts had just the right amount of heat to excite our taste buds.
KetoKrate July 2023 truly took us on a roller-coaster ride of delectable flavors! Whether you're a keto veteran or just starting, this month's crate had something for everyone. Stay tuned for next month's box, because the keto adventure never ends with KetoKrate! 🚀🌟
Is KetoKrate Really Worth It?

Is the tempting world of KetoKrate calling your name? Wondering if it's truly worth indulging in this keto-snacker's paradise? Let's uncover the magic that sets KetoKrate apart from ordinary snacking experiences!

Picture this: You're on the hunt for exclusive, mouthwatering keto snacks that can't be found in your local store. But here's the catch – to satisfy your curiosity, you'd have to commit to ordering them online in bulk quantities. 6, 12, or even 24 packs of each snack, just to get a taste! Ouch, that hefty price tag and those additional shipping costs are enough to dampen anyone's snack-loving spirit.
But fear not, our keto friends, we've got some mind-blowing math to share! 🧮🤯


If you were to purchase each of these divine snacks individually, you'd be spending a staggering $209.20! And don't even get us started on that $62.29 shipping bill – it's more than the KetoKrate itself! 💸💨
Now, before you start crunching numbers and wonder if the keto-snack heavens are playing a prank on you, let's unveil the genius behind KetoKrate. 🤓✨

With KetoKrate, you don't just receive an extraordinary selection of keto delights – you get the exclusive privilege of trying before you buy! Taste, savor, and indulge in a variety of snacks, and then reorder your favorites to your heart's content.
But wait, there's more! As a beloved member of the KetoKrate family, you unlock the gateway to our Members' Only Keto Shop. No minimum order quantities, no shipping fees – just pure snacking freedom to repurchase your treasured treats or explore new ones that might have slipped past you before! 🛍️🌈

Are you ready to make the leap into the world of smarter snacking? It's as easy as saying "yes" to KetoKrate! We'll whisk away a delightful Krate full of tasty snacks tomorrow, and all you'll pay is the incredibly affordable $39.99. Did we mention that shipping is on the house? Plus, you hold the power to cancel anytime – though, we doubt you'd want to! 😉🥳


So, my keto amigo, laugh, live, and savor the keto flavor to the fullest. Embrace the tasteful treats, fuel your fun, and let every bite be an adventure. Ready to take the plunge? Join KetoKrate today and let the snacking magic begin! 🌟🍽️🛍️