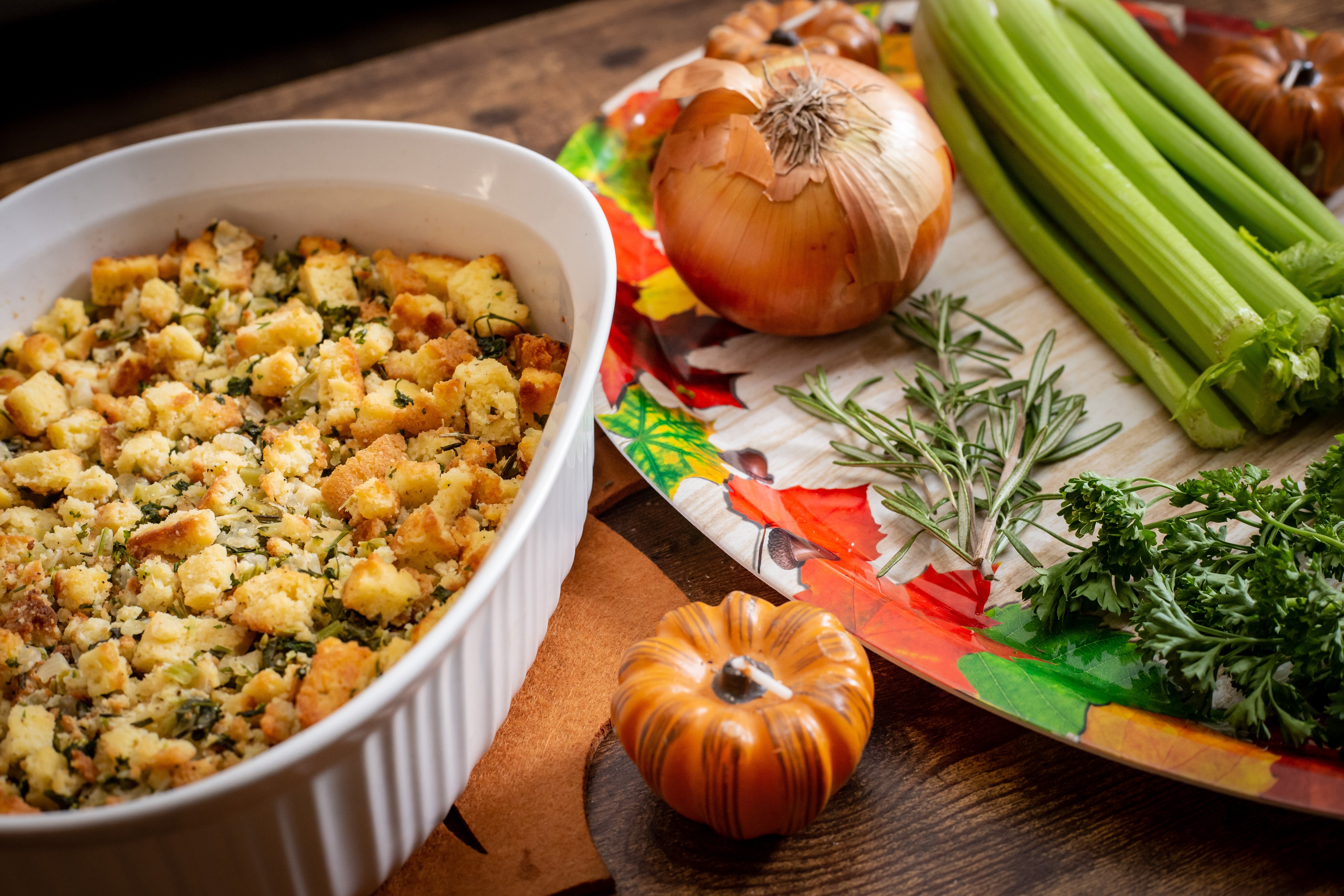 The holiday season has arrived and we can already almost taste those nostalgic family recipe flavors! Holiday favorites can throw a wrench in your healthy eating plans, but if you thought you had to give up all those classic dishes for Keto, you thought wrong. A holiday table isn't complete without some stuffing, so we've got the answer to your Keto prayers! This recipe will keep you and your family in the holiday spirit without racking up the carbs. And it's a cinch to make, so you'll spend less time in the kitchen and more time making memories.
Directions:
Bread Directions:
Preheat oven to 375 degrees. Grease a bread loaf pan (8x4) or line with parchment paper.

Combine egg yolks and cream of tartar in a bowl of a mixer and whip on high until egg whites are at stiff peaks.

In a separate bowl, whip egg yolks, almond flour, salt, baking powder, and melted butter together with a mixer.

Gently fold half of egg white mixture in. Once thoroughly combined, fold in remaining egg whites.

Transfer mixture into prepared baking pan and bake at 375 degrees for 25-30 minutes, or until a knife inserted in center of loaf comes out clean.

Allow to cool completely.
Stuffing Directions:
Preheat oven to 350 degrees

Cut cooled bread into cubes.

Melt 3 Tbsp of butter and mix with bread.

Spread out bread cubes on to a baking sheet and bake for 12-15 minutes until toasted and golden.

Sautee remaining 2 Tbsp of butter, celery, onion, and garlic in a pan on medium heat until onion and celery are tender.

Add in salt, pepper, rosemary, sage, thyme, and parsley. Cook until herbs are just starting to wilt, approximately 1-2 minutes.

Combine bread, sautee mixture, and chicken broth in a bowl and mix together.

Grease a casserole dish with butter and pour stuffing mixture in.

Cover with foil and bake at 350 degrees for 35 minutes.

Remove foil and bake for another 15 minutes, or until top of stuffing is golden and crisp.