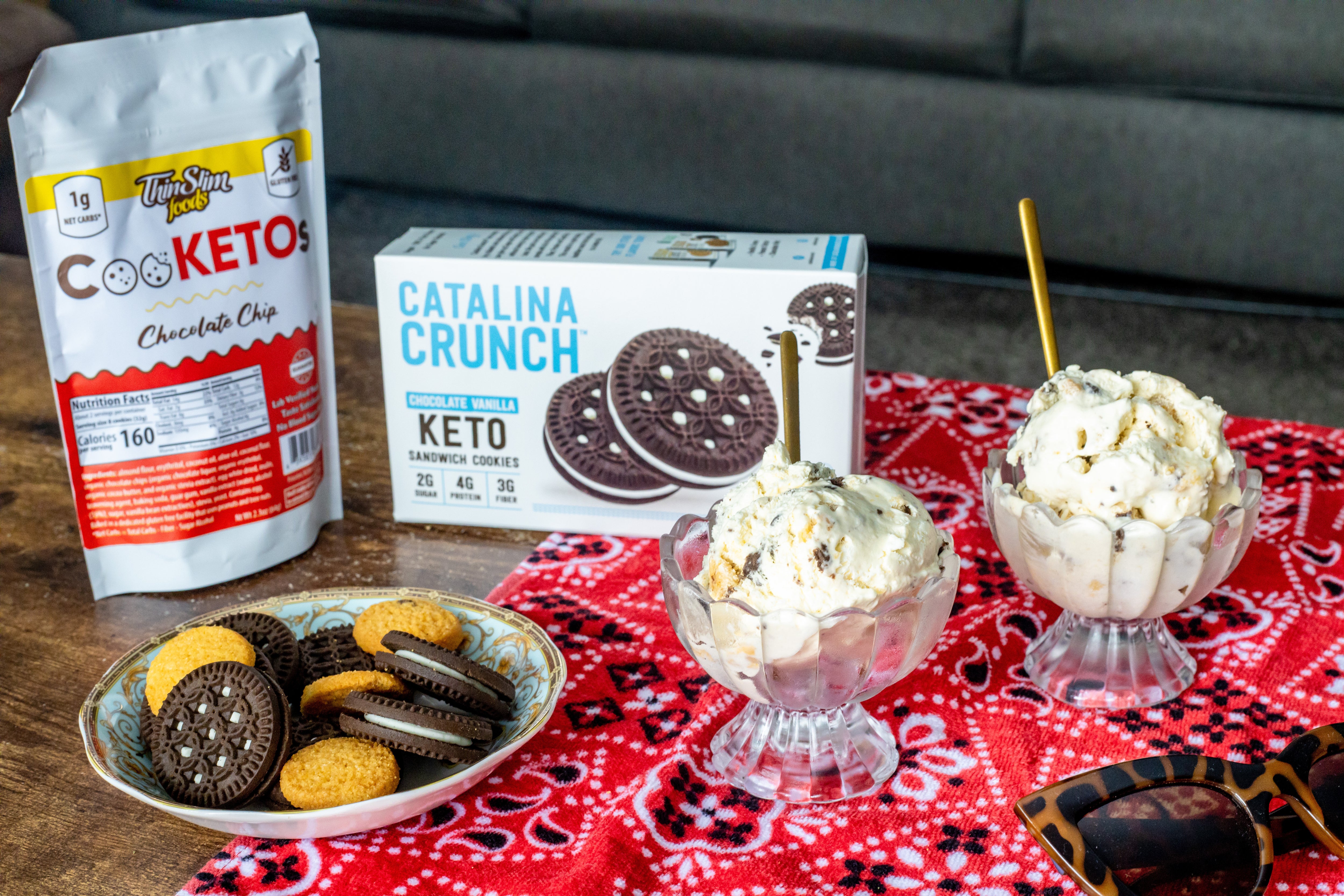 We don't know about you, but we love celebrating all those quirky national holidays revolving around snacks! Why not bring a little extra joy into our routines with the perfect excuse to indulge in a treat? August has TWO of these fun holidays - National Ice Cream Sandwich Day (August 2nd) and National Chocolate Chip Cookie day (August 4th). So we thought — why not combine them into one tasty dessert? Introducing our Cookie Blast Ice Cream featuring the chocolate chip cookies from Thin Slim Foods and the Catalina Crunch chocolate vanilla sandwich cookies! Let's celebrate summer fun — without the carbs!
Steps
Using a stand mixer, whip heavy cream on high until it is a whipped and fluffy texture
Transfer cream to a bowl and refrigerate
Combine water and allulose in a sauce pan and bring to boil, do not stir

Let allulose mixture boil until it reaches 223-236°F, roughly 10 minutes until mixture is 

just starting to caramelize in color and is a thick and syrupy texture

While allulose is cooking, add egg yolks to bowl of stand mixer and beat at medium high 

speed for several minutes, until they lighten in color

Beat vanilla extract into egg yolks
With mixer at medium speed, pour allulose mixture into egg yolks in a slow stream. Continue to mix at medium high speed until fully combined and thickened
Gently fold egg yolk mixture in to chilled whipped cream
Add in crushed cookie bits and gently fold to combine
Transfer to a sealed container and let freeze for at least 8 hours
Ice Cream Maker Directions: To make using an ice cream maker, follow instructions above, but do not whip cream. Combine egg yolk and allulose mixture with heavy cream and pour into ice cream maker. Follow manufacturer's instructions for your machine. Add in cookie pieces 15 minutes before ice cream is fully churned.