knowledge
17 Top Sweet Keto Snacks (As Voted by You!)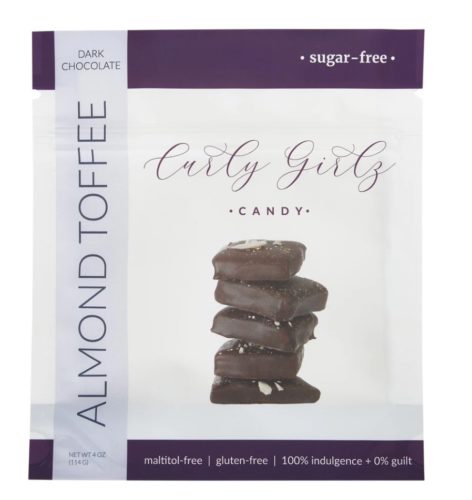 Keto is all about kicking sugar to the curb and focusing on healthier choices. But entirely cutting out your favorite foods can lead to feelings of being deprived and compensatory behavior down the road. In a culture where we're surrounded by sweets and treats at every occasion, it can be hard not to fall off the wagon when that sweet tooth kicks in. But we have good news — you don't have to go off track in order to satisfy those sweet cravings!
As the popularity of Keto continues to increase, so many snack companies are falling in line by creating delicious low-carb desserts you can buy! You no longer need to sweat over a kitchen stove to bake your own sugar-free treats. Instead, online shops (and a growing number of grocery stores) are full of sweet Keto snacks that you can keep on hand, ready to go whenever and wherever a craving strikes.
At KetoKrate, our business is snacks! So we've compiled a list of seventeen of the best sweet Keto snacks, as voted on by the Keto palates of our customers. Read on for the top seventeen Keto desserts you have to try!
Our KetoKrate snackers can't get enough of Curly Girlz Candy, and we don't blame them! We'd be wiling to bet that even the most hardcore chocolate connoisseur wouldn't know this decadent candy was sugar free. A sweet toffee covered in rich, melt-in-your-mouth chocolate and packed with crunchy almonds is the Keto snack we didn't even know we needed! There will be no sense of deprivation when you open a bag of these yummy treats.
Curly Girlz is a small family business based out of Minnesota. Founder Paula Trenda put her candy making experience to use and brought the low-carb community a sweet treat without the sugar. From toffee to caramels to brittle, Curly Girlz has something to satisfy every sweet tooth. The Milk Chocolate Almond Toffee is perfect for birthdays, Valentine's Day, or just a random Tuesday! At only one net carb per serving, they can be an everyday treat you don't have to feel guilty about.
The people at ChocoRite have been at the forefront of the low-carb snack industry, and it shows! They've bridged the gap from a small Keto snack company to a mainstream Keto dessert you can buy in many grocery stores. To keep your goals on track, it's pivotal to have a Keto-friendly snack available when a sugar craving strikes, and there's no question that your craving will be fully satisfied by ChocoRite's delicious and guilt-free Chocolate Crispy Caramel Bar!
Loaded with crispy crunch and gooey caramel, these indulgent candies will make you forget you're counting carbs. But with only a hundred calories and two net carbs per package, your macros will be looking as good as you do!
ChocZero is a pillar in the Keto snack community. The company is made up of health-conscious individuals who wanted to make a sugar-free chocolate without compromising on taste or ingredients. They set out to make amazing chocolate that was not only free of sugar, but also gluten free, soy free, and sugar alcohol free. And they definitely succeeded!
ChocZero has a massive line up of Keto Bark varieties that are sure to delight your taste buds. Choose from dark or milk chocolate and crunchy add-ins, ranging from almonds to peppermint! Plus, their individually wrapped servings help with portion control, so you don't have to worry about devouring the whole bag (but if you do, there will be no judgment from us!)
HighKey is one of the newer companies in the Keto space, and we fully welcome them to the club! They've taken the low-carb community by storm with a multitude of products, including hot cereal, baking mixes, and brownie bites. But it's their Chocolate Chip Mini Cookies that originally won our hearts, and those of Keto'ers across the country!
Say goodbye to your ex-love, Chips Ahoy, because there's no need for those sugar-filled cookies anymore. HighKey Chocolate Chip Mini Cookies deliver all of the flavor and crunch without all the junk! Grain free, gluten free, and only two net carbs per serving? You'll think you died and went to Keto cookie heaven!
Chocolate lovers rejoice because Coco Polo has the sugar-free answer to your prayers! The great minds at Coco Polo set out to develop a stevia-sweetened chocolate that would taste great and be diabetic friendly. But they didn't stop there! They also focus on adding superfood ingredients (like elderberry and ginger root) to make their chocolate delicious while also increasing each bar's nutritional value.
Nutritional information aside, these bars taste like a guilty pleasure! Coco Polo's Milk Chocolate Hazelnut Bar was a KetoKrate customer favorite, and you only have to take a bite to figure out why. Taste and texture unite in this bar to wow your senses while keeping your health goals in line. Superfood chocolate with none of the guilt? Sounds like a win-win to us!
With the ever-growing popularity of Keto, it seems company after company is plastering that four letter word on their packaging. But one look at the nutritional information for Keto Wise's new Chocolate Pecan Clusters Fat Bombs, and you'll know they are the real deal! Not only has Keto Wise developed a delicious candy with less than one gram of sugar, but these treats are also high in fat to keep you satisfied for hours!
These decadent candies are maltitol free and include MCT oil to keep you from falling victim to that 3 o'clock slump at the office. Throw them in your bag for an afternoon pick-me-up, or indulge in these tasty chocolates as an after dinner treat.
If you're looking for a baked good without any required baking, look no further! Smart Baking Company has done all of the hard work for you with their delectable SmartCakes. With varieties like lemon, chocolate, cinnamon, and their new vanilla latte, you're sure to find a flavor that hits the spot!
These little cakes are seriously moist, fluffy, and delicious! And you can put your macro worries aside. Not only are these heavenly cakes sugar free, but they're also just 38 calories and zero net carbs each! With two cakes in a pack and macros like that, the only guilt you'll feel is when you opt to eat both instead of sharing! 
Don't count this one out as just another chocolate bar because ChocoPerfection is exactly as its name implies — perfection! Sweetened with erythritol, this smooth and rich chocolate will make you think you're in a gourmet chocolate shop. ChocoPerfection's sugar-free and gluten-free chocolate is the stuff dreams are made of!
With a guarantee of nine whole almonds in each bar, you're in for a crunchy and satisfying Keto treat when you're on the go or when you need a moment of chocolate zen at home. At just three net carbs for the entire Dark Almond Chocolate Bar, you're free to indulge away! Perfection.
FatSnax is the brainchild of Jeff Frese, a fellow Keto'er that started his Keto journey back in 2015. He loved the way he felt with his new Keto lifestyle but realized there weren't many options to satisfy his sweet cravings. Lucky for us, Jeff took it upon himself to fill the gap, and so FatSnax cookies were born!
These Double Chocolate Chip Cookies are sure to satisfy the strongest of sweet tooths! Gluten free and sugar free, each cookie is just two net carbs and boasts nine grams of fat! But all you'll be thinking about when you take a bite is the soft-baked texture and the mega dose of chocolate flavor. Grandma's sugar-filled cookies have nothing on FatSnax (we still love you, Grandma!)
If your Keto diet has you missing some crunch, you're in luck! Stoka Nutrition can provide all the crunch you need with their Stoka Bars. Although their delicious flavor and texture will remind you of those old sugar-filled granola bars, Stoka provides great taste and energy without that sugar crash.
Fuel your outdoor adventures, pack one in your backpack for a mid-class snack, or grab one as you head out the door for the carpool line. The Vanilla Almond Stoka Bar promises "more krunch, less carbs" — and it delivers! With only four net carbs, a whopping twenty-two grams of fat, delicious flavor, and great ingredients, you'll feel good about putting this sweet and crunchy snack in your body while fulfilling your snack goals!
If you thought you had to give up cereal when you started your Keto diet, you were (thankfully) mistaken! Magic Spoon is coming to the rescue and making all of your childhood dreams come true! Sweetened with the incredible power of allulose, your mouth may not believe this cereal is sugar free. The founders weren't lying when they put "magic" in the name!
Magic Spoon offers several different flavors, but their Frosted variety makes us feel like we're eating Lucky Charms' more mature (and healthier) counterpart! With only three net carbs per serving, your balanced breakfast can once again include a bowl of tasty cereal. Pour in some Keto-friendly milk, or eat it straight out of the box. Either way, your inner child will be elated!
If you're a fan of rich chocolate truffles, Revol Snax has the low-carb dessert you've been waiting for! Filled with a rich chocolate ganache, these decadent chocolate bites will tame even the strongest sugar craving. And if you want to dabble with other flavors, you have delicious choices — Snickerdoodle, Dark Chocolate and Almond, and Matcha Latte. You'd never know these convenient bite-sized treats contain less than one gram of sugar per serving!
Packed with clean ingredients and only one net carb per serving, these bites are a Keto dessert-lover's dream. With twelve grams of fat from MCT and almonds, your body and mind will be fueled while your taste buds dance with delight! 
Nui is an O.G. in the low-carb community and founders Kristoffer and Victor made one of the first Keto cookies available on the market. Their cookie production all began as a grassroots operation in Kristoffer's mother's kitchen. But their vision and dedication  — paired with a delicious cookie recipe — led them all the way to Shark Tank! And the rest, as they say, is history.
Nui has continually refined their formula to be sure they're offering one of the best low-carb cookies around. Plus, they're free of gluten and artificial sweeteners, have no added sugars, and have only three net carbs. To top it off, their classic Chocolate Chip Cookie has all the comforts of mom's home-baked cookies with none of the sugar! We think that's one smart cookie!
Munk Pack is taking the Keto world by storm with their new Keto-friendly granola bars! Their creamy peanut butter flavor is combined with a crunch and chewiness that's reminiscent of that carby granola bar from your school lunch box days. While indulging in this spectacular snack, you'll never believe this bar is grain free!
This is the perfect snack for a mid-day treat or as a sweet finale to your breakfast on the go! Gluten free, grain free, with no added sugar, and with only two net carbs, this Peanut Butter Granola Bar is the perfect healthy snack to keep you full and satisfied on your busiest days!
There's no shortage of chocolatey goodness on this list, and we're here for it! Keto chocolate has come a long way over the years, and Ross Chocolates is proving that we no longer have to settle for chalky flavorless sugar-free sweets just because we want to stick to our healthy lifestyle. We can have our chocolate and eat it too!
Ross Chocolates Dark Chocolate Thins with Hazelnut are the perfect treat to give you a sense of indulgence without blowing your macros. These chocolates are sugar free and diabetic friendly. With five pieces and only two net carbs per serving, you have the perfect after dinner treat with zero guilt!
Don't worry, fruity dessert lovers — we didn't forget you! Fruity sweets have been a mostly untapped market in the Keto space, but Kiss My Keto is coming to the rescue with their new Keto gummies! There's no need to cave in to that sugar-filled gummy bear craving — Kiss My Keto has you covered.
Like your old favorite gummy candies, these Keto Gummies are sweet, chewy, and flavorful. But with only two grams of sugar per bag, you can feel free to enjoy without the risk of a sugar coma. With a mix of three flavors and only three net carbs per serving, you don't have to sacrifice your health goals to satisfy your sweet tooth!
Our list of sweet Keto snacks wouldn't be complete without including the decadent Sea Salt Pecan Chocolate Bar from Sinless Raw. Their mission is to source the highest quality gourmet, fair trade, and organic ingredients from around the world and bring them together into a delicious sugar-free chocolate bar! Mission accomplished!
Soy free, sugar free, raw, and vegan, these bars take guilt-free chocolate to another level! Plus, a one-ounce serving of their chocolate contains as many antioxidants as 30 cups of spinach. Sign us up! With only one net carb per serving, you can feel good about this Sinless chocolate indulgence!