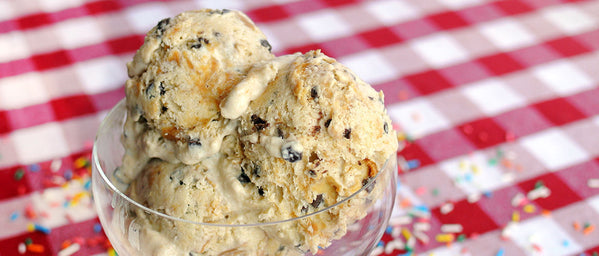 Who can resist a scoop of ice full of chunky chocolate chips and creamy peanut butter?
It's hard to say no, that's why it's great to have a basic, sugar free ice cream recipe on hand! You can make your very own chocolate chip peanut butter ice cream by the pint and enjoy it any time you like!
We used heavy cream and almond milk in this ice cream recipe to cut the calories a bit, since it's quite dense as it is (thanks, peanut butter). Feel free to use all heavy cream, it wouldn't hurt the consistency.
The vodka in this recipe plays an important part, but is optional. It lowers the freezing point of the ice cream, allowing it to stay a bit softer than it would without the vodka. Any kind of clear alcohol will do here, and you won't taste it in the end!
What's your favorite ice cream? Using this basic recipe and replacing the chocolate and peanut butter, you can probably make your favorite flavor!
Steps:
Set your heavy cream,almond milk and erythritol to heat up on the stove over low heat. Don't let it boil, just let it come to a gentle simmer.
While it's heating up, whisk the egg yolks and add vanilla extract to them.
Temper your eggs by pouring in a ladle of the hot cream into them while whisking continuously. This helps them heat up before pouring them in the hot cream directly. You don't want scrambled eggs in your ice cream!
Pour the tempered eggs into the hot cream and whisk on a very low flame.
Add in ¼ tsp of xanthan gum into the hot cream and egg mixture and mix very well until the whole thing thickens up a bit.
This step is optional, but you can strain the ice cream batter through a fine mesh sieve in case some egg cooked in the process.
Transfer to a bowl and add vodka, if using. Chill until cooled.
Once cool, add it to an ice cream maker and churn according to manufacturer's instructions.
Once the ice cream has thickened up in the ice cream maker, add in chocolate chips. In the last few seconds of churning, add peanut butter. Adding it last helps retain some peanut butter ribbons in the ice cream.
Serve immediately for soft serve or store in the freezer!