Success Stories
Emily's Keto Weight Loss Success Story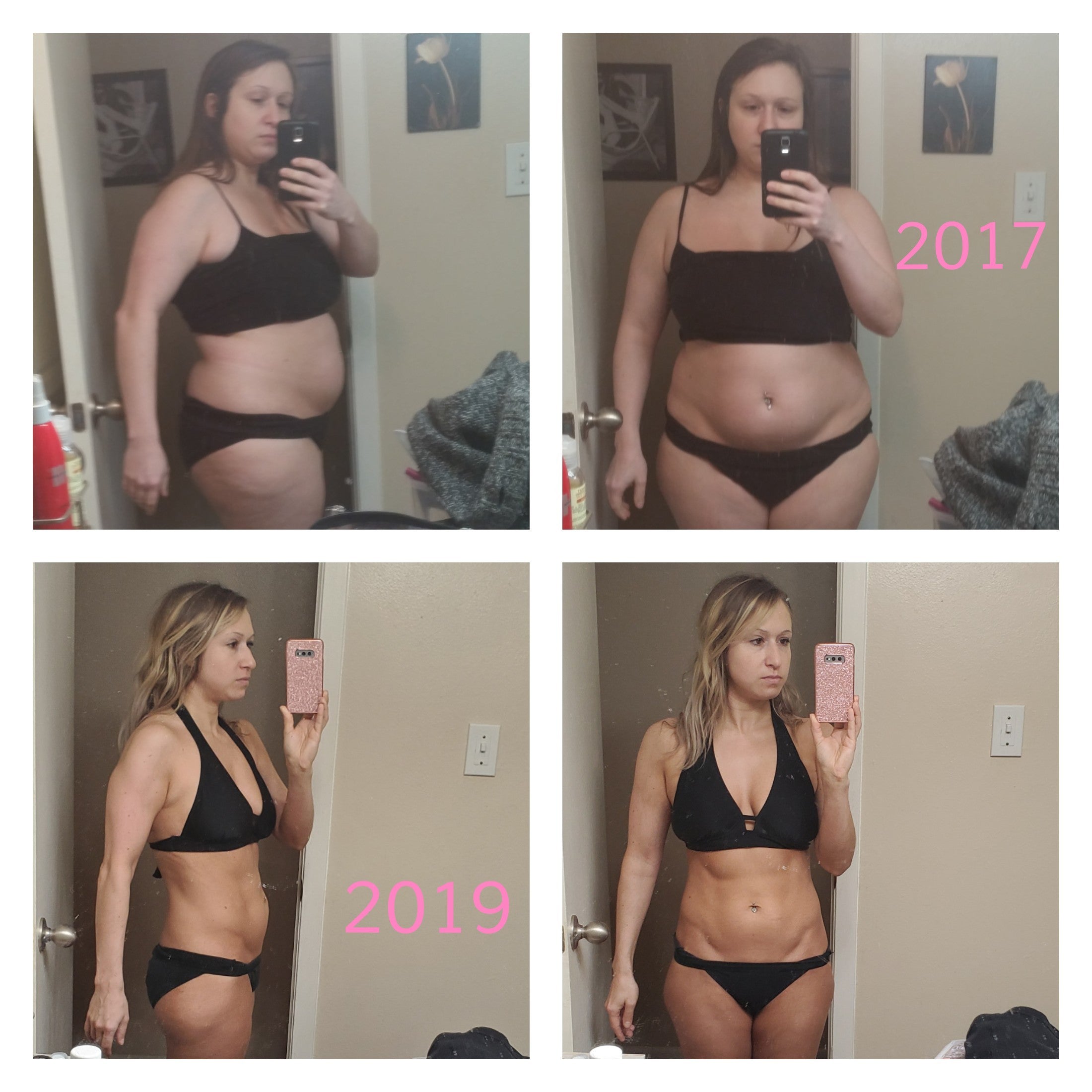 Emily had been a chronic yo-yo dieter and spent the last 15 years losing and gaining weight over and over again in a vicious cycle. She was familiar with low-carb diets and was searching for recipes when she started coming across the word "Keto" on Pinterest. She figured it meant low carb but balked when she dug a little deeper and realized how low carb Keto actually is.
"I never thought I would be able to get my carbs that low and be so restrictive, but I had gained a lot of weight yo-yo dieting and thought I would give it a try and see if it made a difference".
It did. Almost a 60lb difference!
She's been Keto'ing since March 2017 and hit her goal weight in January 2018. She's spent the rest of the time in maintenance.
"I was so addicted to carbs. It was the majority of what I ate. I had a major sweet tooth and could have eaten pasta every night of the week."
Now, Emily's new favorite food is BBQ brisket which she never liked prior to Keto.
"It's so weird how your tastes change and you don't crave the things you used to anymore."
Emily has been a KetoKrate subscriber since 2017 and in Sept 2019 joined the KetoKrate team as a full time content producer. We asked her about the role KetoKrate plays in her life and how it has helped her on her journey.
"I love it because it has introduced me to so many products that I wouldn't necessarily have known about otherwise. You find out about products that make your whole Keto life so much easier which is really awesome, and it's so fun to get every month!"
"Some of my favorite snacks are SmartCakes, Curly Girlz Hemp Brittle, and the chocolate Catalina Crunch cereal. Every month I find a new thing to add to my pantry!"
Emily doesn't sweat the holidays and gives herself permission to enjoy some special foods that aren't part of normal Keto life. She does set boundaries for herself and shared a little about what she did last year.
"The only times I cheated at all in my whole Keto journey were Thanksgiving Day and Christmas Day and I didn't consider them cheats because planned for it. I pick a few items that matter to me, like homemade stuffing, and allow myself to enjoy a small portion during that meal. After that, it's back on the plan and moving forward."
We asked her about the biggest challenge with Keto, and she bravely shared her history of body dysmorphia.
"My biggest challenge is dealing with body dysmorphia.
I still struggle with it and I think it's something that a lot of people go through, especially if you've struggled with your weight or yo-yo dieted a lot. Sometimes it's hard to see what I really look like and see the changes."
I think many of us can relate to struggles with body image issues, even after losing weight. When asked how she deals with it, she replied.
"It's still a struggle but taking pictures helps me. It's one of the reasons I created my Instagram account. It keeps me accountable and it's a reason to remind myself about the progress I've made. Posting a before-and-after picture is the evidence. It's there right in front of your eyes. That helps me to get my mind to realize how big of a difference there is and how much progress I've made."
We wanted to know what advice Emily would give to others who were starting out on Keto and she told us:
"It is important to go at least 4 weeks with no cheats. After about 4 weeks, all of my hunger and my cravings were dramatically reduced and that had never happened for me on any other diet.
You need to let your body get to that point, and if you're having a few fries here and there every weekend, you're never going to get there."
Sometimes the hardest part of any journey is staying motivated. As time goes on, fresh-faced excitement can turn into the grind, and we need a little motivation to keep us going.
Reading and sharing in each other's success is super inspiring and can help you stay focused when the goal line is looking a little fuzzy and far away.
It's a good reminder that like Emily, we can do this!