knowledge
Husbands, Do Yourself a Favor and Read This Article About Your Wife's Keto Diet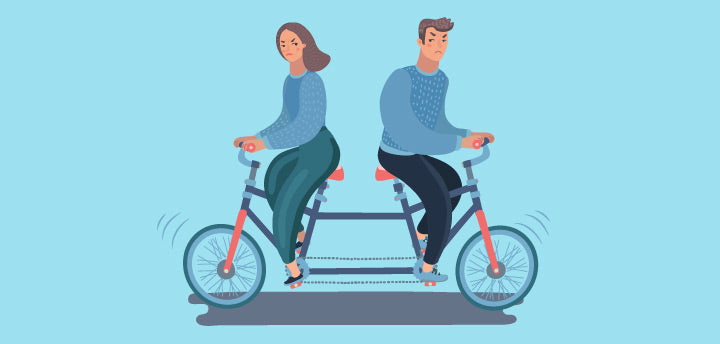 Congratulations, you've made the decision to take control of your health and get on the Keto lifestyle! You've got your macros figured out, you're meal prepping like a boss, and you're already starting to feel better. But there's one thing that's bringing down your Keto euphoria: your well-meaning — but not always sensitive — loving husband.
It's difficult to embark on a new way of life when your closest ally just doesn't quite get it. He may be questioning your food choices or whether you're eating enough, he insists you could just exercise more, and don't even get him started on his concerns with intermittent fasting! Keto is still a fairly new and controversial topic for the average American, and we understand your husband's apprehension when he hears that you're trading your pasta and rice for steaks and bacon. But the last thing you want is for your admirable effort and dedication toward getting healthy to be hindered by your other half! Not to worry — we've got your back with some simple and straightforward tips you can send his way:
Know that women have it rough
We've all heard that men lose weight quicker and easier than women, and your wife has probably seen this first hand. While she faithfully sticks to her diet plan and still struggles to lose weight each week, you dropped five pounds by just enjoying the Keto meals she's been making for dinner!
Men typically have more muscle mass than women, and therefore, they have a higher metabolic rate.
This leads to men losing more body fat than women on average, even when calorie deficits are the same or exercise exertion is matched. Add to that the fact that women have the burden of more drastic water retention and weight fluctuations, especially when Aunt Flo arrives, making it tough for her to determine her actual progress on the scale. And in case she's not feeling defeated enough, she's also inundated with pictures of that new celebrity mom who dropped all the baby weight in two weeks flat while she's still trying to work off the holiday pounds from last Christmas.
So try to show some extra kindness while she's going through this journey. It's tough for anyone to lose weight, but women often have to work a little harder. Make sure you're not downplaying the challenges she's facing or giving too much "helpful" advice from your own experience that will leave her feeling defensive or resentful. And if you're joining her on the diet, or just reaping the benefits of her new low-carb cooking, be gentle when you let her know about your new low on the scale (and maybe prepare for the occasional death stare).
Give her a hand
Having a non-Keto spouse can create some extra challenges for your wife, but you can help with just a few simple gestures.
Your wife's choice to be Keto doesn't mean you have to get rid of all of your favorite carbs, but you can keep them out of sight in the pantry or in a cabinet above the fridge so she won't be tempted to grab them in a moment of weakness. And whatever you do, don't eat her Keto snacks without asking her first! We know those KetoKrate snacks are delicious, but there's nothing worse than reaching for your favorite Keto treat just to find out it's been eaten by a carbivore!
Another way to take some pressure off is to help out with dinner. Meals made of separate components are the perfect way to accommodate a split-diet household. For example, pick a meat and vegetable that you can both enjoy, and you can choose to add potatoes or rice to your plate. Or she can make a meat sauce to top zucchini noodles, and you can add your serving to pasta. Keep in mind that your wife may still be struggling to cut those carby sides out of her diet, so do her a favor and take the task of cooking the starch off her list. It's about time you learned to boil pasta anyway, right?
Be her biggest supporter
The only thing better than seeing her hard work pay off is knowing she has you as her biggest cheerleader. Having you in her corner can make all the difference in her ability to stick with this new way of life. So show her you're rooting her on in big ways and small!
Get excited for all of her successes: cheer on her non-scale victories, make a point to mention it when you notice she looks slimmer, and frequently commend her for her hard work and dedication. They may seem like little things, but these gestures can make a big impact when she's having a bad day and motivation is waning.
You can also show some solidarity by forgoing your own carbs every once in a while. Order a bunless burger along with her, or skip the fries so she doesn't have to longingly stare at them across the table. Small tokens are big signs of your support.
Finally, don't take advantage of her weak moments. The idea of running out to grab pizza or ice cream together
when she's having the urge to jump off the wagon might sound appealing, but think about what she really wants in the long run. Instead, encourage her to stay on plan (pro tip: suggest making a fathead pizza together!). Choosing her long-term goals over your short-term preferences show her that you're truly behind her on this journey. And she will thank you later!
Your Keto journey will be a series of ups and downs, but your husband rooting for you instead of questioning you will help take some of the pressure off. If he's still not totally on board after reading our tips, send him the science! There are so many articles, videos, and podcasts that illustrate how Keto not only helps with weight loss, but also with long-term health and longevity (check out a few links below!). Hearing it straight from people who have spent years studying this way of eating might ease his mind and allow him to give you his full support.
This is a time to focus on you, your health, and your goals. But the whole experience will be smoother for everyone when your husband is aware of the challenges you're facing and is supportive of the choices you're making. Pass on these tips so he can get in your corner and watch you succeed. And just wait — once he sees the positive impact Keto has on you, he'll be boarding the Keto train himself!
Additional resources
The Benefits of the Ketogenic Diet: https://www.ruled.me/benefits-ketogenic-diet/
Dr. Stephen Phinney video series: https://blog.virtahealth.com/dr-stephen-phinney-ketosis-ketogenic-diets/
Dr. Jeff Volek – 10+ Years of Keto Research podcast: https://dranthonygustin.com/059-latest-low-carb-diet-research/