Success Stories
Jess' Success Story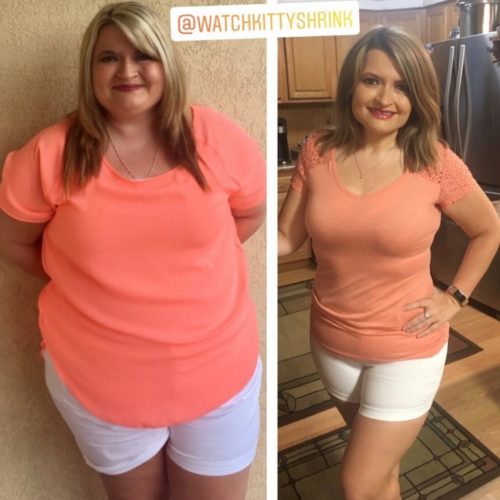 Jess of @watchkittyshrink was originally featured as our April 2019 KetoKrate Success Story. She 100% believes you're worth it and that investing in your health will take you to new heights. After you read her story, we recommend following Jess on Instagram ASAP for inspiring photos and meal and snack ideas! 
Before losing weight, I didn't have any self confidence. At my heaviest, I weighed 285 lbs. I was miserable, uncomfortable and had low self-esteem. Weight has been an issue for most of my life, and my struggles started at an early age. I remember going on my first diet at 11 years old. Since then, I'd tried every diet in the world, but I couldn't stick to anything for more than a week or two. 
My moment of truth came when I went to a basketball game with my friend. I could barely walk up the steps to our seats. Once we got there, I didn't fit, and I ended up sitting on the very edge all night. I was mortified. When I saw a candid picture of myself that night, I cried for days. I knew I couldn't continue living like this. 
I chose keto because it seemed like the right balance for me. I'm not someone who can do "moderation." Keto was strict enough that I felt like I was following a plan, but flexible enough that I've never felt deprived. 
A huge part of my journey was having weight-loss surgery. Weight-loss surgery helped me eat less, and keto helped me to determine exactly what to eat. I used the first year after my surgery to train myself on how I wanted to live the rest of my life. Once I started keto, I knew it was a lifestyle for me.
I'm typically a super low-carb keto kid. I stay around 10-12 grams of carbs, 75 grams of protein, and 80 grams of fat per day. Low carb is actually the easiest part of keto for me. The number one thing for me is to never mess around with real sugar.
KetoKrate helps me because it helps me find snacks that fit my macros. I still have cravings, and having snacks from KetoKrate helps me make good choices.  
As of April 2019, I've lost 135lbs, and I've got about 15 more until I reach my goal weight.
Since losing weight, I got my driver's license, got a better job, and enrolled in college — all because losing weight showed me that I can do hard things and that I'm my best investment. 
My advice to anyone is to believe you are worth it. You are worth the time it takes to research this. You are worth the time it takes to meal prep. You are worth the 30 minutes in the gym, and you are worth the cost of a KetoKrate. You deserve to do this for your health. I believe in you!
If you want to connect or follow me on social media, follow me
@watchkittyshrink