knowledge
Keto Meal Planning Tips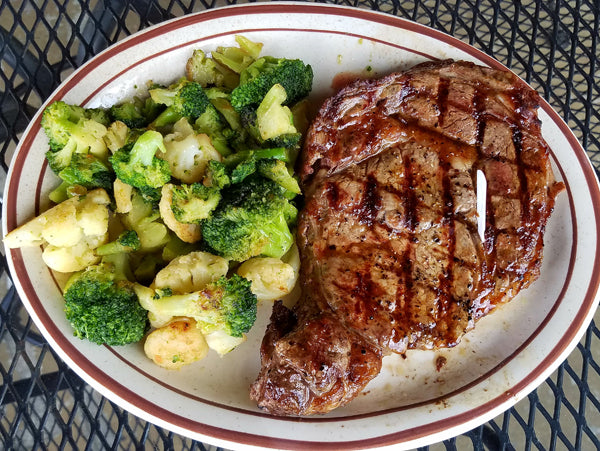 Guest Post from Lauren of "Key to Keto" who says: The most asked question I hear is, "What do you eat on Keto?" and that's what prompted me to start creating personalized meal plans for others.
Figuring out Keto can be a little overwhelming when you're just starting, so here are some tips to help you out…
Create Your Keto Meal Plan
Before you go to the grocery store, sit down and plan out your breakfast, lunch, dinner, and snacks for the week. This is very important. You want to set yourself up for success by having the right groceries in the house.
Start by breaking your meals down by fat, protein, and carbs. When you're new to keto, pick meals that are simple and easy!
Don't go out and buy fancy grocery items, you can save that stuff for later.
I'll show you examples of these macros and how to build your own keto meal plan below…
Keto Macros, or macronutrients, are: Healthy Fats, Protein and Carbohydrates.
FATS- The second most asked question I get is,
"Where do you get fats from?" and fats can be found in lots of places!
I like to use butter, coconut oil, olive oil, heavy whipping cream, full fat salad dressings, avocado, nuts, fatty cuts of meat, cream cheese, and mayo as my sources of fat.
75% of your calories will come from healthy fats on a keto diet. Cooking a source of protein in a fat, cooking a low carb veggie in a fat, or adding fats (coconut oil and heavy whipping cream) to coffee are great ways to incorporate fat into your keto meal plan.
PROTEIN-
The keto diet includes moderate protein. Around 20-25% of your total daily calories will come from protein. There are TONS of different proteins you can choose from: chicken, bacon, steak, beef, eggs, pork, fish, turkey, sausage, cheese, the list goes on and on.
When I am building a keto meal plan, the source of protein is usually what I think about first.
CARBS-
5% or less of your total daily calories should come from carbs on a keto diet. Most of my clients eat around 20g of net carbs (total carbs minus fiber) per day. I like getting most of my net carbs from nutrient dense veggies. The vegetables also make a great side dish for most meals.
When picking a veggie, you want to make sure you avoid starchy veggies like potatoes and corn. Low carb vegetables I enjoy are lettuce, spinach, broccoli, cauliflower, zucchini, bell peppers, mushrooms, radishes, cucumber, pickles, and celery.
How To Put It All Together Into A Keto Meal Plan
Now that you know where your sources of fat, protein, and carbs are coming from, let's plan! Start by picking one source of protein, add a fat, and pick a small amount of carbs as a side dish.
Here are a few examples of simple keto meals…
BREAKFAST: COFFEE W/ FRIED EGGS & BACON
COFFEE

HEAVY WHIPPING CREAM & COCONUT OIL

BUTTER

EGGS

BACON SLICES
For this meal, the source of protein is eggs and bacon. Fats are coming from the butter, coconut oil, and heavy whipping cream.
LUNCH: CHICKEN SALAD
SHREDDED CHICKEN

CELERY STALK

LEMON JUICE

MAYO

ROMAINE LETTUCE LEAF
Mix mayo, chicken, and lemon juice together. Serve in a lettuce leaf.
For this meal, the fat source is mayo, the protein is chicken, and carbs are coming from the celery and lettuce.
DINNER: STEAK & BUTTERED BROCCOLI
FILLET STEAK

BROCCOLI

BUTTER
Cook steak to your liking and serve with broccoli and butter on the side. For this meal, your source of protein is the steak. The source of fat is the butter, and you're getting some carbs from the broccoli.
TREAT: 1 LEMON FAT BOMB
LEMON FAT BOMBS:

1/4 CUP COCONUT OIL

1/4 CUP UNSALTED BUTTER

4oz CREAM CHEESE

2TB SWEETENER

1oz FRESH LEMON JUICE

ZEST OF ONE LEMON
Mix coconut oil, butter, cream cheese, and sweetener together with a hand mixer or stand mixer. Stir in lemon juice and zest until combined. Add to a silicon mold or ice cube tray. You can also roll 12 balls out onto wax paper. This recipe makes 12 fat bombs. Eat 1 tonight and save the rest in your freezer.
Fat bombs are one of my favorite way to add fat into my diet!
These are loaded with fat and a small amount of protein.
These meals are just an example of what you can eat on a keto diet. The serving sizes will vary depending on your macros.
If you would like a meal plan that's tailored to your macros and meal preferences, contact Lauren of Key to Keto meals at Keytoketomeals@gmail.com to order a personalized meal plan.
You can also
follow Keytoketo_meals on Instagram
for
recipes and keto tips.