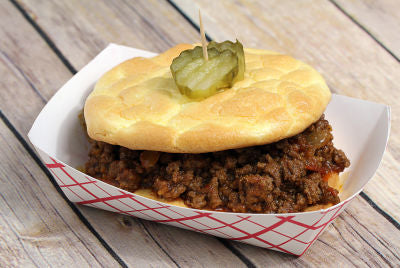 Sloppy Joe's are a classic dinner staple that can be ready in under 30 minutes and store well in the fridge!
We like to put a little kick of jalapeno in our recipe as well as a little extra chili pepper.
Make sure to use your favorite low carb marinara or tomato sauce and a sugar substitute you have on hand.
We used SukrinGold, a "brown sugar" erythritol to help give our sloppy joe that traditional flavor; any sugar substitute will work here though!
To give the sloppy's their texture without adding any cornstarch or flour, make sure to cook it uncovered until a lot of the moisture has cooked off and you're left with a nice, thick and sticky result!
Note: if you're serving these on Oopsie Rolls, dig in right away so the rolls don't become soggy.
Steps
Start off by heating up a large pan with a tablespoon of olive oil.

Add your onion and garlic to the pan and cook until fragrant. If you're using fresh jalapeno, add those in to cook as well. If you prefer or only have pickled jalapenos, add them in last to retain flavor!

Once your veggies are cooked down a bit, add in your ground beef and break it up in the pan.

After the meat is nice and brown, stir in your marinara sauce, mustard, soy sauce, vinegar and sriracha and lower the heat to simmer.

Add in your sugar substitute and your seasoning and stir it all in.

Let this simmer, uncovered, for about 10 minutes or until a lot of the liquid has evaporated and everything has become thick and sticky. Add in pickled jalapeno right before serving.

When you're ready to serve, spoon some of the Sloppy Joe onto an Oopsie roll, low carb wrap, a leaf of lettuce or right into a bowl! Enjoy!