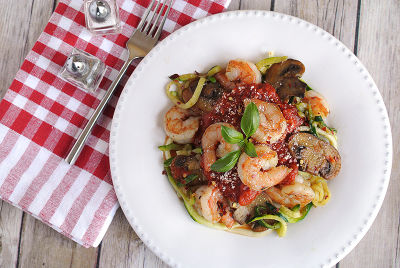 Shrimp Zoodles are a staple low carb dinner for us because they're quick to make and extremely versatile. As long as you have a spiralizer for vegetables, you can make zoodles from zucchini, squash, broccoli stems or even daikon radish!
A spiralizer is a great addition to any low carb kitchen. We put an Italian spin on this recipe by adding some classic, Italian seasonings and a hearty sprinkling of Parmesan cheese. You can also swap in some vodka sauce for a creamier zoodle recipe!
Any way you serve it, you'll love this quick and easy dinner!
Steps
Heat 2 tablespoons of olive oil in a large pan over medium heat. Slice your mushrooms and fry them up until they've soaked up most of the oil.
Add 2 tablespoons of butter and let the mushrooms cook until they've turned golden.
Add shrimp and let them cook about 4 minutes on each side.
While the shrimp are cooking, make your zoodles by using a spiralizer. Twist a zucchini into the tool until it looks like noodles.
Once the shrimp are cooked and pink, toss the zoodles in and mix it all up. Let it cook for about 2 minutes.
Then add your marinara sauce, season with salt, pepper, red pepper flakes, basil and oregano..
Toss it all together and enjoy with a sprinkle of Parmesan cheese!