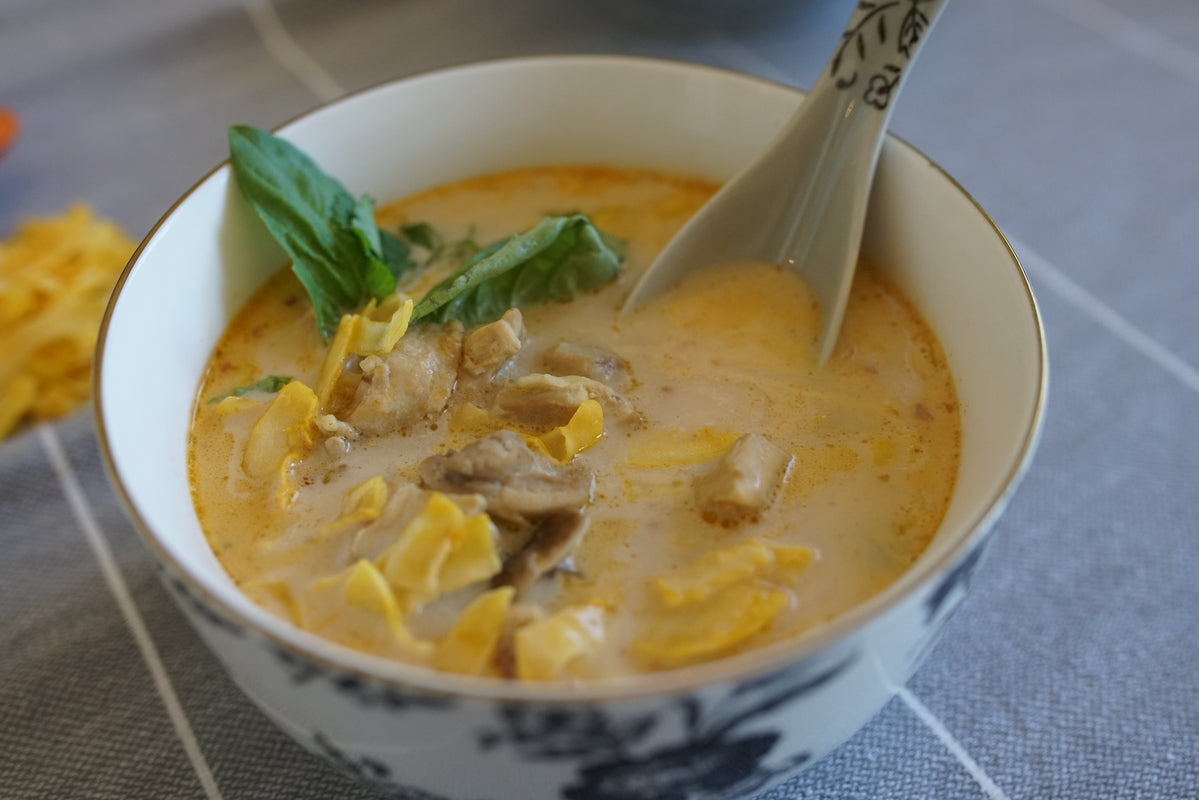 Transform a cold day into a cozy one with a bowl of homemade soup! Our Spicy Thai Coconut Soup combines a flavorful chicken broth base with warm Thai flavors and a citrus note. The shiitake mushrooms add an extra boost to your immune system, while the chicken and coconut milk satisfy you and your fellow soup eaters! To top it off, top your soup with Dang Tropical Mango Coconut Chips, stir well, and set your timer for five minutes. Our KetoKrate kitchen was delightfully surprised when the coconut chips softened and took on the texture of noodles! Sip on, and invite your tastebuds to experience tropical bliss.
Steps
Trim ends and peel outer layer of lemongrass. Cut into 4 inch pieces

Add ginger, lemongrass, lime zest, lime juice, and chicken broth into saucepan and bring to a boil.

Turn down heat down to medium low and simmer for 10 minutes

Strain broth to remove lemongrass, ginger, and zest and return broth to saucepan

Add chicken to broth and bring to boil

Turn heat down to medium low, add mushrooms and simmer until chicken is cooked thoroughly (about 15-20 minutes)

Add in coconut milk, fish sauce, monk fruit, chili garlic sauce, and paparika. Let simmer on low heat for at least 20 minutes to let flavors combine.

Portion into bowls. Garnish with basil, cilantro, and Dang Tropical Mango Coconut Chips. Serve with a lime wedge.

Pro tip: Stir well and let your Dang Tropical Mango Coconut Chips sit for 5 minutes. This will allow the Coconut Chips to soften and take on the texture of noodles!