knowledge
Your Summer Body Has Arrived!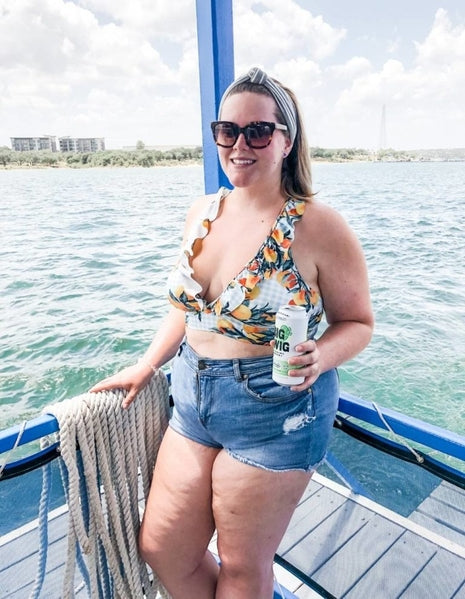 Your Summer Body Has Arrived!
Summer: a time for backyard barbecues, lounging by the pool, getting together with friends for fun in the sun, and experiencing crippling anxiety from the constant reminders that you do not yet have a summer body. As a plus-sized woman, my excitement for summer activities like going to the waterpark and playing volleyball has been eclipsed by my fear of people finding out I was fat. I grew up thinking that as long as I wore jeans and a hoodie, there was no way anyone would discover the big fat secret underneath my clever disguise. Pretending I was too cool to go down the slides, I was the kid wearing track pants and a long-sleeved shirt to the waterpark. In reality, I was drenched in sweat and watching all the fun from a distance. Whether I was on the sidelines or turning down invitations altogether, I missed many activities because I couldn't decide if being the sweaty and smelly girl was worse than being the fat girl.
Well, not anymore! I've spent too much of my life sitting on the sidelines of summer. Every January, I'd tell myself, "this is the year I'm going to be skinny by summer," and every year, summer came and went, and I was still the fat girl that missed out on so many memories. I don't want to be that girl anymore, and I don't want that for you either. Saddle up because I'm here today with tips for how we're going to have fun this summer even though we haven't hit our weight loss goals yet and the idea of wearing a swimsuit is as exciting as wearing Crocs filled with mayonnaise.
Have Go-to Outfits!
Here is the list of our "go to brands"
It's ok if you haven't hit your goal weight yet! You are not alone and more importantly it's ok that the photos you turn to for inspiration aren't a reflection of what you see in the mirror. You're on your journey. You've made all the right choices, and you're taking all the right steps. Your goal weight and body will come with time, but don't miss out on the fun right now. Summer fun is for all sizes, so don't feel like you need to wait for your goal size to start living life to the fullest today. More often than not, we are our harshest critics. The dimples on my legs, a little jiggle here and there, a stretch mark, and some arm fat are just some of the major insecurities that kept me from doing things I love like running into ocean waves or meeting friends for a cocktail on a patio bar.
One of my tricks for summer attire? Find staple clothing pieces that help you feel good no matter what. I've compiled a small collection of shorts, dresses, and tops that make me feel both comfortable and confident. If you're about to leave the house and you feel worked up about how you look in your clothes, drop your current outfit and hop into one of your trusted favorites. There's comfort in having a go-to outfit that makes you feel good inside and outside when you don't feel your best. It's nearly impossible to feel confident daily, so safety net outfits help tackle the nasty insecurity beast when it catches you.  While I buy most of my clothes through online thrifting sites like ThredUp and Poshmark, I do have some favorite brands that I rely on for breezy, comfortable, and stylish summer clothing: Torrid, American Eagle and Aerie, Target, Maurices, Boohoo, and Marshalls and Kohls. I've even had some luck with Amazon and SHEIN!
A Million Dollar Swimsuit
Let's get the big bad out of the way. In my opinion, swimwear is the villain of summer, and because so many summer activities involve a bathing suit, it's crucial we confront this villain. As if you didn't already feel insecure about how you look, summer is when you wear what is essentially waterproof underwear in front of friends, family, and strangers. What an absolute delight! I'll be the first to admit that swimsuit shopping can feel worse than having your teeth pulled. We've all been there, standing under those unflattering dressing room lights, trapped in a hot and tiny room, and sweating while wrestling into a swimsuit, only to have a store employee ask if everything is ok when you're almost ready to admit defeat. You either leave empty handed or buy some ill-fitting suit that doesn't make you feel good but covers your bits enough to let you get out there.
Thankfully, the fashion industry finally caught up and now makes varieties of swimsuits for all bodies. Growing up, there was either a one-piece or a two-piece with not an awful lot in between. Today, there is such a wide variety of swimsuits that I often find it difficult to buy just one! We're also now blessed with the gift that is online shopping where you can try on swimsuits in the comfort of your own home. The goal here is to find that million dollar swimsuit — aka the swimsuit that makes you feel like a million dollars. When I found mine, I started looking for excuses to put it on and even just wore it around the house.
Finding a suit that you feel secure in, that accentuates your curves and conceals areas you might be shy about, and makes you feel confident (instead of embarrassed) is so liberating that you'd be willing to pay a million dollars for it! I promise you that it's out there and just waiting to be found. When you find "the one," you'll be dying to get that beautiful body on the beach. I never thought in a million years I'd be wearing two-piece bathing suits at a size 16 but I am so in love with swimwear now. I'm happy I live in Austin, Texas where I can wear my swimsuit at least 6 months a year! I've been guilty of trying to blend into the background, but I say we go all out, wear the big floppy hat, some glamorous shades, and that show-stopping swimsuit, and embrace the absolute knockout that you are this summer.
One Day at a Time
While I would love for every plus-size human to ooze confidence and fierceness from every pore, I know that confidence is something that doesn't come easily every day. That's why I want to tell you that there's no right or wrong way to be in your body this summer. One day, you'll lounge poolside in your incredible swimsuit, and the next day, you won't remove your bathing suit cover up once — but guess what? Those are both victories because you still got out there and found a way to enjoy yourself in the sun.
You're already a warrior. You're fighting what feels like the biggest battle, which is making a positive lifestyle change and putting yourself first. These daily battles of "how can I feel confident and comfortable in this heat?" get easier as you start to realize that the only person who was really hard on you was you. Feeling confident while showing some skin won't happen overnight, so you can always pack a light cardigan if you only want to show your arms for an hour or wear a breezy maxi dress so you can feel cool without completely showing off your legs. I know it might seem like showing some skin isn't meant for bigger bodies, but that is simply not true. Comfort in hot weather is something that every body type deserves.
Confidence Can Kill Cravings
While you're soaking up the sun and fully immersing yourself in all of summer's enthralling activities, it can get even easier to commit to your diet. As a former binger, the days where I hated my body and chose to leave an event earlier or didn't go at all also ended up being the days where I'd drown my feelings in ice cream or pizza. This would lead to some disastrous scale setbacks and self loathing. That bad day would turn into a bad week, and I would quickly spiral out of control.
I'm an emotional eater, and once I started being more confident and comfortable in my body, I spent more time enjoying myself and less time craving all the foods that I would use as a crutch to deal with the summer sadness. I am currently 250lbs. For many, that is a starting weight, but I began my journey just over 310lbs. I tried and failed to hate myself skinny for years, and it's when I started to love my body that I started to treat it better. When I chose to accept and embrace the parts of my body that I used to hate, I began to focus less on them, which gave me clarity and strength in my decision making when it came to food. It also made it a lot harder to sit at home, feel lonely, and binge when I was preoccupied with having a great time!
Take a look in the mirror. You've got a summer body right now. Make a list of activities and adventures you'd like to do this summer with friends and family. Get excited and pack some snacks because your summer body is going places!