knowledge
Zero Net Carb Snacks: 10 No Carb Snacks That Will Make Carb Counting a Breeze!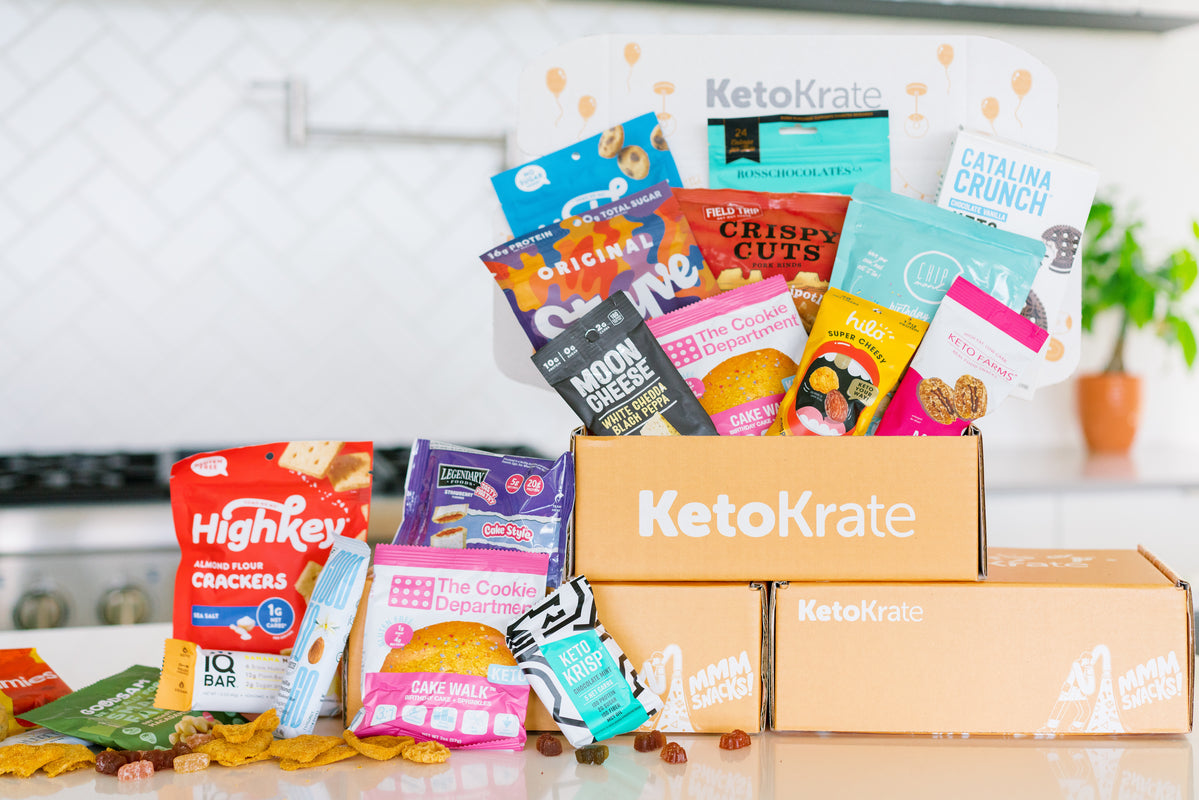 The Keto diet is extremely effective at reducing your hunger and cravings. But that doesn't mean we don't want a yummy Keto snack every now and then! While there are many Keto snacks on the market nowadays (check out our list of the 17 Best Keto Snacks as voted by KetoKrate customers), sometimes you need a snack that will still allow you to use your daily carbs elsewhere. And that's where these delicious zero net carb snacks come to the rescue!
Zero carb snacks are the perfect way to optimize your macros and indulge without blowing your carb count! These snacks are perfect to munch on while traveling, during a busy day, or for a mid-day nosh. No carb snacks take the guesswork and worry out of carb counting to make your Keto diet easy as (sugar-free) pie!
Keep reading for a list of our ten favorite zero net carb snacks that will keep you effortlessly on track. And if you don't see your favorite no carb option on the list, be sure to drop a comment for your fellow Keto'ers!
First on our list is the classic original beef stick from Chomps. They're one of the leading companies in the sugar-free meat stick space, and we're big fans! Their original flavor beef stick is Keto certified, Whole 30 approved, and gluten free. Rolling in with nine grams of protein, zero sugar, and of course — zero carb — what more could you ask for?
Chomps offers a handful of different varieties, but their original beef flavor is a fan favorite among our KetoKrate customers. These beef sticks are perfect to throw in your bag for a quick on-the-go snack full of protein and fat to keep you full and satisfied. No carbs, no problem!
Pork rinds are a low carber's BFF! A perfect solution to those chip or popcorn cravings, they will give you the snacky crunch you're looking for. But don't mistake these Pork King Good pork rinds for your normal run of the mill gas station chicharrone. The taste and texture Pork King Good delivers is a cut above!
Pork King Good has found a way to make a light and crunchy pork rind that'll make you forget you are dieting. While they offer a great variety of delicious flavors, the salt and vinegar may be our favorite! These pork rinds may be low on carbs, but they are definitely not low on flavor. Your mouth will delight in a force of tangy vinegar and salty crunch. These are not to be missed!
While zero carb options may limit your ideas to meat snacks and pork skins, we have a sweet surprise for you. Smart Baking Company has managed to defy logic by creating delectable little cakes with zero net carbs! We don't know how they do it, but we're happy to partake in this Keto black magic.
These yummy cakes are the perfect Keto dessert. With choices of cinnamon, chocolate, lemon, raspberry cream, and vanilla latte, every sweet tooth is sure to be satisfied and delighted. And don't think for one second that you'll have to compromise on texture to compensate for the lack of carbs. No way! These cakes are seriously soft, moist, and indulgent. Zero carbs and zero guilt! What more could we ask for?
Pederson's Natural Farms is a legend in the Keto community, providing us with some of the best sugar-free bacon, sausages, and other delicacies on the market! And while we Keto'ers are known for our love of bacon, it's typically not the best option for an on-the-go snack. But Pederson's is 10 steps ahead of us and gifted us with their fully cooked bacon snack packs!
A compact pack of two pre-cooked bacon strips is a Keto'ers best travel companion! They're the perfect snack to add to your carry-on bag at the airport, or to bring to the office for a quick breakfast. All the deliciousness of Pederson's traditional bacon with all the convenience of a dried meat snack — this is a winner all around. And the fact that this snack pack is zero carbs? That's just the icing on the Keto cake.
Nick's Sticks is another front runner in the list of our favorite meat snacks! Their beef sticks are filled with clean ingredients that you'll feel good about putting into your body. Boasting a stick that's sugar free, hormone free, nitrate free, dye free, and antibiotic free (and of course carb free), you couldn't ask for a better zero carb snack.
Nick's Sticks come in packs of two and the whole pack is zero carb, only 120 calories, and a whopping ten grams of protein! They have a handful of yummy flavors, but the original beef stick is their pride and joy, and we understand why — it's full of flavor and sure to satisfy your snack cravings!
Chicharrones are the perfect zero carb snack, and 4505 Chicharrones are top of the line! Their bags are packed with crunch and flavor. Perfect for a movie snack or as a crunchy side dish to your Keto lunch! You won't even miss those old carby snacks you used to eat once you try these delicious bites.
4505 offers several flavors and varieties, from pork rinds to cracklings, but their smokehouse BBQ flavor is a must try! They have all the smoky sweet barbecue flavor of your old favorite chips without any of the guilt. And if you manage not to eat them all straight out of the bag, try grinding them up for a zero carb tangy barbecue "bread" crumb to use on all of your favorite meats!
We would be remiss to make this list without including Vermont Smoke and Cure meat sticks! Vermont Smoke and Cure has been around since 1962, and you only have to taste their products to know that they have perfected their craft! They believe simplicity is the key, so they focus on responsibly sourced meats and simple ingredients to make delicious snacks that we can't get enough of.
They offer several flavors that are sure to please every meat lover! But their original beef and pork sticks are one of our favorites. Made with lean pork and beef, and raised without antibiotics or added hormones, these sticks will give you that classic smoky flavor with a peppery kick!
If you've never tried beef biltong, you're in for a real treat! Don't confuse this meat snack with your typical jerky. Stryve Beef Biltong is 100% beef with no sugar, MSG, gluten, nitrates, or preservatives. They take high quality steaks and dredge them in vinegar and their signature dry rubs and then air dry them to perfection. The result? A tender and flavorful bite that has more protein than jerky. As Stryve puts it, their beef biltong is like jerky without the junky!
You'll be able to taste that quality and nutrition as soon as you take a bite. Their classic beef biltong is made with a South African family recipe dating back all the way to the seventeenth century. With a history like that, you know it must be good! But don't take our word for it — you've got to taste this zero carb goodness for yourself!
If you're looking for something to shake up your zero carb selection, look no further. ParmCrisps has the cheesy answer! These cheese crisps will give you the perfect alternative option to meat and pork rinds while keeping you on your zero carb path!
Gluten free and nine grams of protein make these cheesy bites a perfect snack. But they're also a versatile option to have in your cupboard because they go way beyond your run-of-the-mill snack. Add them to your favorite salad for a crunch, or break them up as a crispy topping for meats or vegetables. Full of delicious parmesan flavor, these crisps will add a zing of flavor to any dish! 
The final zero carb snack on our list is a super sweet treat! Sweet Cheat is upping the Keto game with their delectable chocolate milk mix. Who knew you could enjoy a glass of chocolate milk without adding to your carb count? This treat will make you feel as carefree as a kid after school!
Sweet Cheat chocolate milk mix is made with just three natural ingredients. Dairy free, sugar free, and sweetened with monk fruit — you'll feel good about adding a little sweetness to your day! Try using our favorite Milkadamia macadamia nut milk as a Keto-friendly (and also zero net carb!) vehicle for this chocolatey mix. This delicious treat will only feel like a cheat!