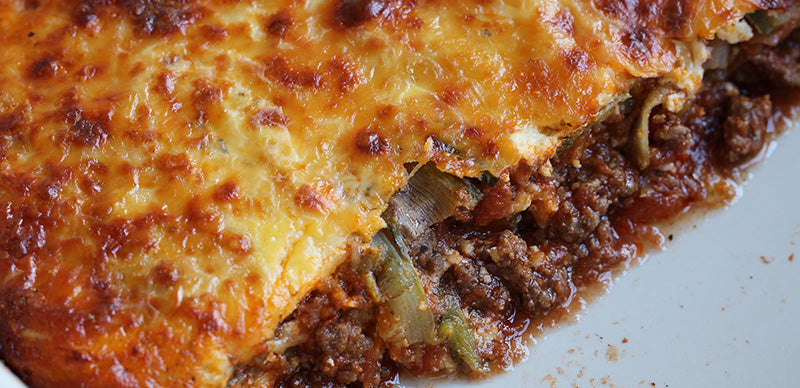 Who would've thought that zucchini would act as a great noodle substitute in lasagna?
Well it does! When choosing your zucchini, make sure you buy the biggest you can find. They'll make the process much easier and cover more surface area than the smaller squash varieties. In our recipe, we used whole milk ricotta and pre-shredded, part-skim mozzarella cheese.
We served this zucchini lasagna to our non-keto friends and got lots of positive feedback!
Steps
Preheat your oven to 350°F. Rinse your large zucchini and using a potato peeler, peel into ribbons. Leave the cores of the zucchini out since they contain much more water than the outsides.

Salt these strips and let sit for about 15 minutes. Then pat dry with a paper towel to get rid of excess moisture.

Brown about a pound of ground beef in a pan and add 2 cups of a low carb marinara sauce. Season your sauce with salt, pepper, oregano and basil.

In a mixing bowl, combine your egg, parmesan, ricotta and mozzarella cheese. Leave about a third of your mozzarella cheese to top the entire lasagna with (or just add some extra cheese to the top!)

Pour half of your meat sauce into a lightly greased casserole dish and spread it evenly.

On top of that, lay your zucchini ribbons down, overlapping slightly.

Scoop your cheese mixture onto the zucchini ribbons and gently spread it evenly.

Add the rest of your meat sauce and another layer of zucchini ribbons.

Add more of the ricotta mixture and a generous sprinkling of mozzarella cheese.

Cover the lasagna with aluminum foil and bake for 40 minutes. Then take the foil off and bake for an additional 15-20 minutes or until the top of the lasagna has browned a bit.

Let it cool for about 15 minutes to stiffen up a bit and then cut! Enjoy!