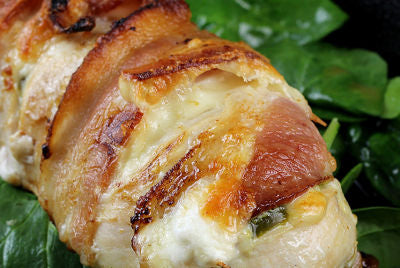 This technique is borrowed from the popular Hasselback potatoes, but the results are even more delicious!
It's essentially a spicy stuffed chicken breast, seared and baked to a juicy perfection.
For our Hasselback chicken recipe we decided to use some of our favorite spicy sandwich ingredients – jalapenos and pepper jack cheese. Of course, a keto recipe would be incomplete without bacon so we added that as well!
Steps
Start by preheating your oven to 350F.
Cut slits in your chicken breast width-wise almost all the way through.
Place a slice or a sprinkle of pepper jack cheese along with some jalapeno slices into each slit. Season with salt and pepper in this step as well.
Using 2 slices of bacon, wrap the chicken breast as much as possible and secure with toothpicks if needed.
In an oven-safe pan on medium-high heat, sear all sides of the chicken so that the bacon gets a head start on crisping up. This should take about 3-5 minutes on each side.
Once your bacon is almost cooked, place the pan into your preheated oven for 15 minutes for the chicken to cook through.
Once that's cooked, serve your Hasselback chicken on a bed of spinach and enjoy with a dollop of sour cream!